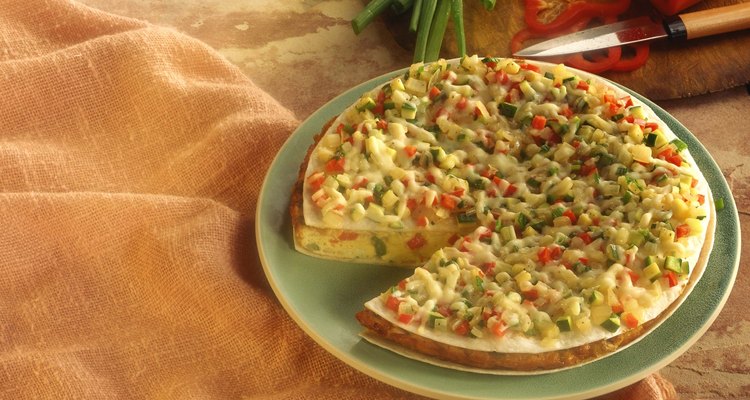 Jupiterimages/Comstock/Getty Images
Healthy eating for diabetes involves more than just cutting carbohydrates. Moderating carbohydrate intake is important, but so is increasing intake of fruits and vegetables, decreasing sodium, avoiding saturated and trans fats and including fiber-rich whole grains. Breakfast egg casseroles -- lightened up to avoid cream, full-fat cheese and fatty meats -- fit well into a diabetes-friendly diet and most sensible eating plans. Work with your health care provider to come up with a dietary plan that meets your needs and complements your medication regimen.
Sausage-Cheese Casserole
Egg casserole with sausage and cheese is a brunch favorite, but traditional recipes are high in saturated fat, cholesterol and sodium. To make a healthier version that tastes just as good, use turkey sausage instead of pork, half whole eggs and half egg whites or low-cholesterol egg substitute, and reduced-fat extra-sharp cheddar cheese. If the recipe includes bread cubes, use fewer than called for and substitute soft whole-wheat bread for white sandwich bread. To boost flavor without an overload of salt, add zesty seasonings such as dry mustard, black and cayenne pepper, smoked or sweet paprika and a sprinkling of fresh herbs.
Crustless Quiche
To make a high-protein quiche with moderate amounts of fat and carbohydrates, dispense with the crust and bake the quiche in a greased casserole dish. Use egg substitute or a mixture of whole eggs and egg substitute or egg whites. After beating the eggs, stir in flavorful low-fat cottage cheese and a reduced-fat grated cheese of your choice. Mix the egg mixture with a generous amount of sautéed vegetables, such as zucchini, mushrooms, bell pepper, onion and kale. Add parsley, basil or other fresh herbs. Top the quiche with slices of fresh tomato and a sprinkling of reduced-fat cheese before baking.
French Toast Bake
French toast sounds like a decadent breakfast, but this healthy bake gets its sweetness from fruit and cuts out the butter and cream. Use a small whole-wheat baguette or cubed wheat bread for the base of the casserole and top it with a mixture of egg whites, whole eggs, low-fat milk and vanilla extract. Add a layer of sliced peaches tossed with lemon juice, cinnamon and, if you like, brown sugar or sugar substitute. Store the assembled casserole in the refrigerator overnight before baking. Top the baked casserole with a spoonful of fat-free Greek yogurt and serve with a side of vegetable sausage.
Spanish Omelet
A Spanish omelet, also called a frittata, bakes in a cast-iron or ovenproof skillet. Traditional versions include potatoes, but you can substitute sautéed lower-carb vegetables such as mushrooms, sweet peppers, summer squash, broccoli, leafy greens and onions. Leftover cooked vegetables work beautifully. To cut fat, use a mixture of whole eggs and egg whites. Preheat a skillet on medium-high heat. Add a bit of cooking oil and pour in the vegetable and egg mixture. Let the eggs set slightly and then lift the edges of the frittata to allow the raw egg to flow under the cooked egg. When the eggs are firm on the bottom, remove the skillet from the heat and sprinkle the top with a flavorful fat-free cheese. Put the skillet under a hot broiler for about a minute until the cheese is melted and the top layer of egg is cooked.
References
Writer Bio
Cindy Pineo has been writing about diet, wellness and culture since 2002. She is coauthor of the book "The Atkins Diet and Philosophy." Pineo holds a Master of Arts in English literature from the University of Illinois at Urbana-Champaign and a Master of Arts in humanities from the University of Chicago.
Photo Credits
Jupiterimages/Comstock/Getty Images