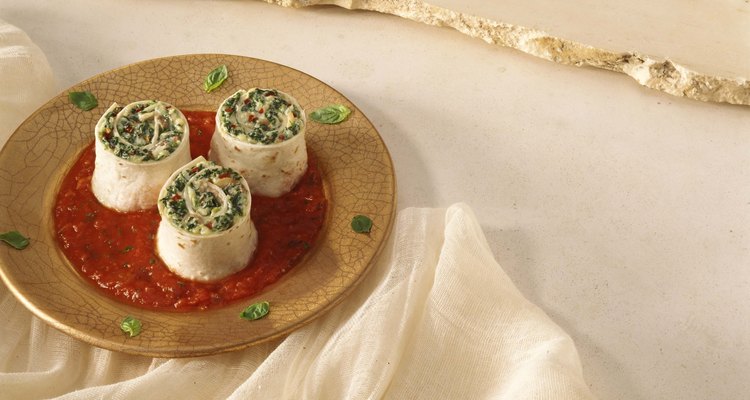 Jupiterimages/Comstock/Getty Images
Cooking with fresh ingredients is best, but it's not always possible. Hectic work and social schedules can sometimes make getting to the grocery store difficult. Keeping a couple cans of vegetables, including spinach, in your cupboard ensures you'll never be without a nutritious dinner option. Canned spinach is already cooked, so you can either add it to your recipes cold or heat it briefly in the microwave or saute pan.
Saute canned spinach with diced garlic and onion. Allow the onion and garlic to simmer in a teaspoon of olive oil for a few minutes before adding the spinach. Add a few shakes of red pepper if you like spicy food. Allow the spinach to warm for about three to five minutes, stirring occasionally. Serve your concoction as a side dish or underneath a grilled filet of salmon.
Layer canned spinach in a veggie lasagna with low-fat ricotta cheese, marinara sauce and whole-wheat noodles.
Make wraps with sliced, grilled chicken breast, drained, canned spinach, shredded carrots and cabbage in a whole-grain tortilla. Whip up a sauce made with low-fat yogurt and salsa, and use it as a dip or spread it inside the tortilla before adding the fillings.
Combine drained, canned spinach with a beaten egg. Pour the mixture into a saute pan over medium heat until the eggs are cooked through. Top with an ounce of crumbled feta cheese.
Use drained, canned spinach as a topping for a healthy pizza with roasted vegetables and a whole-wheat crust.
Add pureed, canned spinach to pasta sauce and curries. Canned spinach works well in these types of recipes in which the texture and consistency aren't important.
Use canned spinach to make low-fat cream of spinach soup. Combine drained, canned spinach with low-fat milk thickened with flour and low-sodium chicken or vegetable broth. Add diced onion, garlic and any other seasonings you like and simmer for a few minutes before putting the mixture in a blender. Eating Well notes that you can also add cooked rice or potatoes to the blender to make the soup thicker.
References
Tips
A 1/2-cup serving of canned spinach contains 30 calories, no fat, 2 grams of fiber, 70 percent of your daily recommended intake of vitamin A and 20 percent of your daily recommended intake for vitamin C.
The 2010 Dietary Guidelines for Americans recommends that adults eat 2 1/2 cups of leafy green veggies such as spinach -- even the canned variety -- each week.
Writer Bio
Jody Braverman is a professional writer and editor based in Atlanta, GA. She received a Bachelor of Arts in English from the University of Maryland, and she is a certified personal trainer, fitness nutrition specialist, and yoga teacher. She has written for various online and print publications, including Livestrong.com, SFGate, Healthfully, and Chron.com. Visit the writer at www.JodyBraverman.com.
Photo Credits
Jupiterimages/Comstock/Getty Images