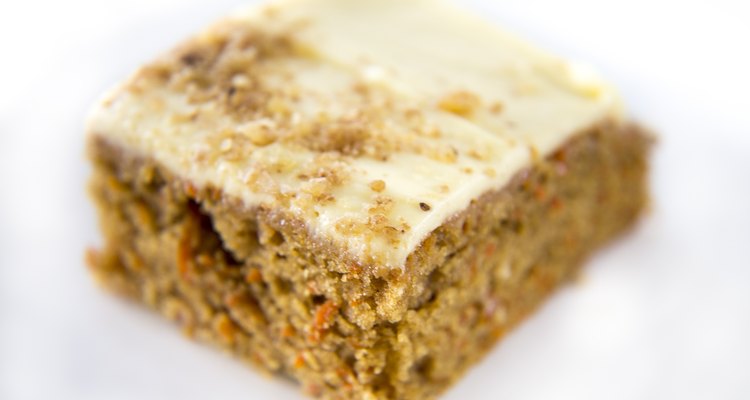 GEOLEE/iStock/GettyImages
Moist, Light and Nutrient-Packed
Chock full of veggies, fruits and nuts, this carrot cake is the real deal. A more traditional recipe might go heavy on the sugar and butter and light on the carrots, but this version intentionally combines whole grains, moisture from natural sweeteners and texture from nuts and raisins to create a cake that tastes sweet and satisfying. For breakfast, try topping a slice with vanilla or plain Greek yogurt. For the kids, top with a small amount of sweetened cream cheese frosting, buttercream or fresh whipped cream.
Total Time: 1 hour | Prep Time: 10 minutes | Serves: 8
5 to 6 large carrots

1 orange, zested

1/4 cup brown sugar

1/3 cup honey

3 tablespoons coconut oil, melted

1/4 cup applesauce

2 large eggs, at room temperature

1/2 cup rolled oats

3/4 cup whole wheat pastry flour

1/2 teaspoon salt

2 teaspoons cinnamon

1/2 teaspoon nutmeg

1/2 teaspoon ground ginger

1 teaspoon baking soda

1/2 cup walnuts, chopped

1/2 cup raisins

Heat the oven to 350F. Line the bottom of a 9-inch round baking pan with a circle of parchment paper, and coat the pan with cooking spray.

Using a food processor, blitz the carrots until they are finely ground. (If you don't have a food processor, grate the carrots.)

In a large bowl, whisk the orange zest with the brown sugar, honey, coconut oil, applesauce and eggs. Squeeze the juice of the orange into the bowl and whisk it in along with the grated carrots.

Wipe the food processor clean and then use it to blend the oats until they are the texture of flour.

In a small bowl, stir together the oat flour with the whole wheat pastry flour, salt, cinnamon, nutmeg, ginger and baking soda.

Pour the dry ingredients into the wet ingredients. Stir with a spatula until just combined and no dry streaks remain.

Using the spatula, fold the walnuts and raisins into the batter.

Pour the batter into the cake tin and bake at 350F for 35 to 50 minutes, or until the edges are golden brown and a toothpick poked into the center comes out clean.

References
Writer Bio
Carly Schuna has been freelance writing and editing for more than a decade. In the lifestyle sector, her specialty areas are wellness, food/drink, and entertaining. With hundreds of recipes and nutrition-focused articles in her portfolio, Carly loves helping readers put a healthy spin on classics in the kitchen without sacrificing taste.