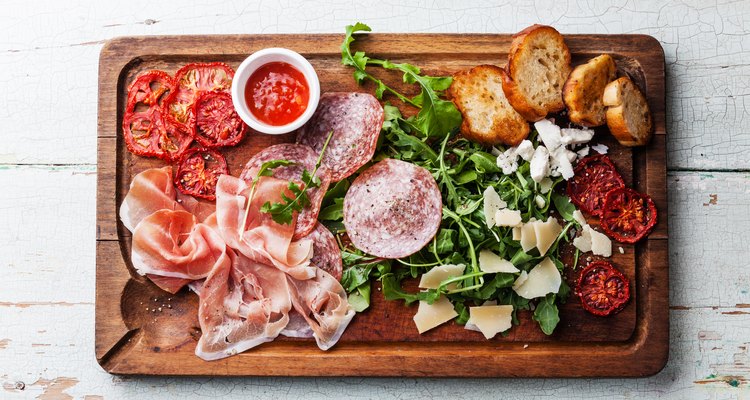 Lisovskaya/iStock/GettyImages
Make a lasagna dinner even more special by serving appetizers pre-meal. Whip up some antipasto, bruschetta or even stuffed mushrooms to keep guests' appetites entertained before the lasanga reveal.
Cold Appetizers
Prepare the classic Italian cold appetizer -- an antipasto platter. An antipasto platter can include a variety of different savory treats to appeal to both youngsters and mature diners. Include crusty Italian bread, assorted crackers, olives, deli meats, a variety of different cheeses -- chunked for easy serving -- artichoke hearts, cherry tomatoes, roasted peppers and roasted nuts. To make the vegetables appealing to the kids, provide an assortment of salad dressings to use as dips or to drizzle on top: herbed olive oil, creamy tomato and ranch highlight the vegetables' natural flavors. If you're serving kids under the age of five, cut the cherry tomatoes into quarters to reduce the risk of choking.
Warm Appetizers
Classic and easy, make a bruschetta using crusty Italian bread. Just whisk together some basic ingredients like olive oil, balsamic vinegar and fresh basil to create a zesty marinade. Then brush your marinade onto the sliced bread, add a few halved or quartered cherry tomatoes, sprinkle a little Parmesan cheese over the top and broil everything just until it looks golden and bubbly.
Another easy-to-prepare appetizer to please guests of all ages is a basic fondue. For a twist on the basic fondue recipe, try flavoring the cheese with ranch dressing. Kids usually love spearing chunks of bread and dipping them into the melted cheese.
Finger Foods
A standard finger food that complements an Italian dinner menu, stuffed mushrooms are simple to prepare and usually go over big with guests. After trimming the stems off the mushrooms, flip them upside down and tuck some savory favorites inside such as cheese spread, a mixture of veggies and creamy peppercorn dressing, pesto or tapenade. An even easier-to-prepare appetizer that goes well with your theme is simply a platter filled with several varieties of olives.
Make-Ahead Appetizers
Make some appetizers ahead of time to simplify the process. Try pinwheels with an Italian flair by using ready-made biscuit dough and rolling it flat. Add some Italian meat over the top of the dough, a little cheese and some Italian herbs like oregano and basil. Roll the dough up tight and cut it crosswise into pinwheels before baking. Guests of all ages will enjoy them. You can also make tiny quiches in little pastry shells, using eggs, onions, diced tomatoes and cheese. Flavor the eggs with fresh herbs or a seasoning mix.
References
"Italian Pride"; Federico Moramarco, et. al.; 2003
Writer Bio
Kathryn Hatter is a veteran home-school educator, as well as an accomplished gardener, quilter, crocheter, cook, decorator and digital graphics creator. As a regular contributor to Natural News, many of Hatter's Internet publications focus on natural health and parenting. Hatter has also had publication on home improvement websites such as Redbeacon.