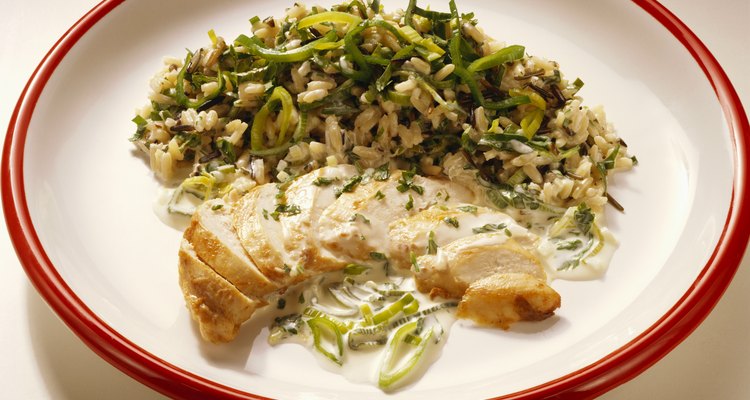 Eising/Photodisc/Getty Images
Chicken breast tenders are a boneless and skinless cut of the breast meat. Foster Farms chicken breast tenders are 99 percent fat-free, contain no added salt, chemicals or artificial ingredients, such as taste enhancers, and are 100 percent natural. They are endorsed by the American Heart Association. Because breast tenders are lean, they cook quickly and are easy to over-cook if you use high heat cooking methods. Cook chicken breast tenders by pan-grilling, baking or sauteing.
Baked Chicken Tenders
Rinse and pat dry the chicken breast tenders. Marinate the tenders in a mixture of 1/3 cup of olive oil, 1/3 cup of sweet red wine or sherry and 3 tablespoons of soy sauce, or use a marinade of your choice. Marinate at least two hours in the refrigerator.
Preheat the oven to 375 degrees Fahrenheit.
Combine 1 cup of breadcrumbs, 2 tablespoons of melted butter or olive oil and 1 teaspoon of black pepper in a bowl.
Remove the chicken tenders from the marinade and place them into a baking dish in a single layer. Pour the breadcrumb mixture over the chicken tenders
Bake the chicken tenders for 15 to 25 minutes or until the internal temperature reaches 160 degrees Fahrenheit when measured with a meat thermometer.
Pan-Grilled Chicken Tenders
Rinse and pat dry the breast tenders. Cut into small 1/2-inch-thick slices.
Heat 2 tablespoons of olive oil in a skillet over medium-high heat.
Add the sliced chicken tenders to the skillet. Season with salt and black pepper to taste. Optionally, season with garlic pepper, dried basil and/or crushed red peppers to add more flavor.
Cook for three to five minutes, stirring occasionally, until cooked. Serve with a salad, tacos or as a part of a pasta or a stir-fry dish.
Sauteed Chicken Tenders
Rinse and pat dry the chicken breast tenders. Sprinkle both sides of the tenders with salt and black pepper.
Spread 1/4 cup of all-purpose flour onto a plate and coat the chicken tenders in the flour.
Heat 2 tablespoons of olive oil and 2 tablespoons of butter in a skillet.
Place the chicken tenders into the skillet and cook for two to three minutes. Turn the tenders and cook for another two to three minutes or until the meat is fully cooked. Cook until the internal temperature of the tenders reaches 160 F.
References
Joy of Cooking; Irma Rombauer, et al.
Tips
One 3.6-ounce serving, approximately three pieces, of raw chicken breast tenders have 100 calories, 1 gram of fat and 24 grams of protein.
Writer Bio
Maria Hoven is a health and fitness expert with over 10 years of expertise in medical research. She began writing professionally in 2004 and has written for several websites including Wound Care Centers and healthnews.org. Hoven is earning a Doctor of Philosophy in cell and molecular biology from the University of Nevada, Reno.
Photo Credits
Eising/Photodisc/Getty Images