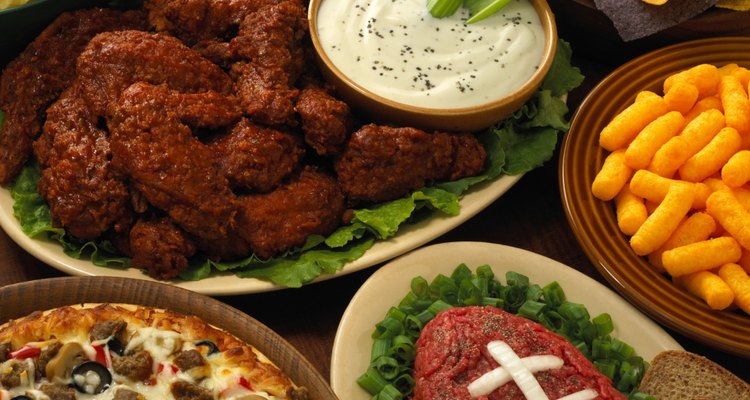 Jupiterimages/liquidlibrary/Getty Images
Food is an essential part of any teenage party, whether it's the main attraction or a way to curb appetites till dinnertime. Like all party food, appetizers designed for teens work best when they're easy to grab and eat. Skip the silverware, set out lots of napkins and stick with yummy appetizers your teens can eat with their hands and finish the food off in one or two bites.
Think Small
Whip up bite-sized versions of your teen's favorite munchies. Downsize cheeseburgers to make sliders; cut out rounds of lavash and top with sauce and cheese to make tiny pizzas; or layer shredded chicken, beans, cheese and sour cream with lettuce and salsa on tortilla chips to make one-bite tacos. Slice up bacon, lettuce and tomato sandwiches into miniature BLTs or use a cookie cutter to make small circles of meat, cheese and other sandwich toppings for small submarine-style sandwiches.
Embrace the Skewer
Threading common foods on a skewer and serving them up with a dipping sauce makes for a quick and easy teen-pleasing appetizers. Serve chunks of Monterey Jack cheese with grilled meat, jalapeno peppers and salsa dipping sauce for a Mexican fiesta, or serve grilled tofu or chicken with spicy peanut dipping sauce or hoisin sauce. For a vegetarian take, thread cooked cheese ravioli on skewers and serve with tomato sauce on the side, or fill skewers with grape tomatoes, mozzarella cheese and fresh basil leaves. Cut leftover chicken into cubes and serve with a dressing like ranch or honey mustard.
Take a Dip
Set out platters of baby vegetables, sliced bread and chips and give teens a choice of dips. Mix easy options like creamy salad dressing, salsa or marinara sauce with homemade fare. Whip up a version of seven-layer dip with cooked beans, shredded cheese, sour cream, sliced avocado, diced tomato and jalapeno peppers, or caramelize sweet onions in butter and oil to mix with sour cream to make a classic French onion dip. If you're up for a little extra effort, make a seafood dip, like clam dip, shrimp dip or even caviar dip.
Mix and Match
Give teens appetizer options, especially if your appetizers are standing in for a full meal and you've got some picky eaters in the bunch. Set out themed trays of food, like a Greek platter with grilled lamb slices, crumbled feta cheese, baked eggplant, tzatziki sauce, mini pita breads and ripe tomatoes. Or set up a burrito platter with cooked red and black beans, cubes of Monterey Jack or cotija cheese, grilled onions and peppers, shredded meat or chicken and warm tortillas and let teens help themselves.
References
Writer Bio
Holly Roberts is an award-winning health and fitness writer whose work has appeared in health, lifestyle and fitness magazines. Roberts has also worked as an editor for health association publications and medical journals. She has been a professional writer for more than 10 years and holds a B.A. in English and an M.A. in literature.
Photo Credits
Jupiterimages/liquidlibrary/Getty Images