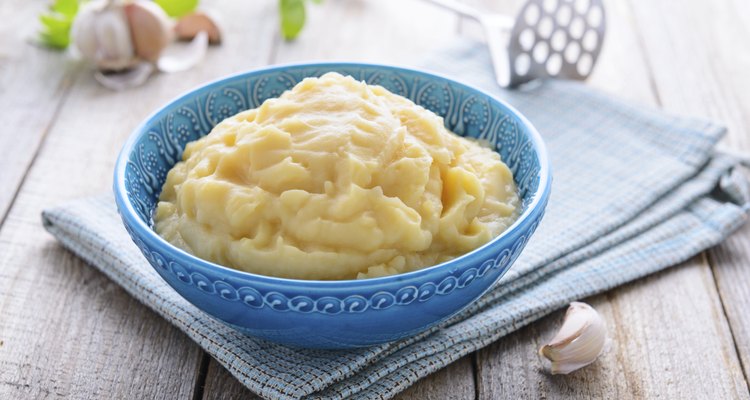 Stitchik/iStock/Getty Images
KFC mashed potato bowl is one of three KFC Bowls on the restaurant's menu. According to KFC's website, the bowl is full "of your favorite flavors." The item includes mashed potatoes, corn and breaded chicken topped with brown gravy and shredded three-cheese blend.
Calories
One KFC Mashed Potato Bowel is 525 g and includes 700 calories.
Calorie Breakdown
Calories are made up of carbohydrates, protein and fats. The KFC Mashed Potato Bowl contains 77 g of carbohydrates. According to MayoClinic.com's guidelines, the meal contains about 26 percent of your daily recommended carbohydrate intake. The meal contains 26 g of protein, nearly half the recommended amount of daily protein. The bowl also contains32 g of fat. This includes 8 g of saturated fat and 1 g of trans fat.
Low-Calorie Considerations
Opt for KFC's snack size bowl, a smaller version of the Mashed Potato Bowl. The snack bowl contains nearly half the calories and sodium as the regular-sized Mashed Potato Bowl; including 320 calories and 990 g of sodium. Still, if you are looking for healthy food alternatives, these number are still high on the charts. Opt for a salad or sides of corn, green beans or baked beans instead.
References
Writer Bio
Julie Hampton has worked as a professional freelance writer since 1999 for various newspapers and websites including "The Florida Sun" and "Pensacola News Journal." She served in the U.S. Army as a combat medic and nurse for over six years and recently worked as the Community Relations Director for a health center. Hampton studied journalism and communications at the University of West Florida.
Photo Credits
Stitchik/iStock/Getty Images