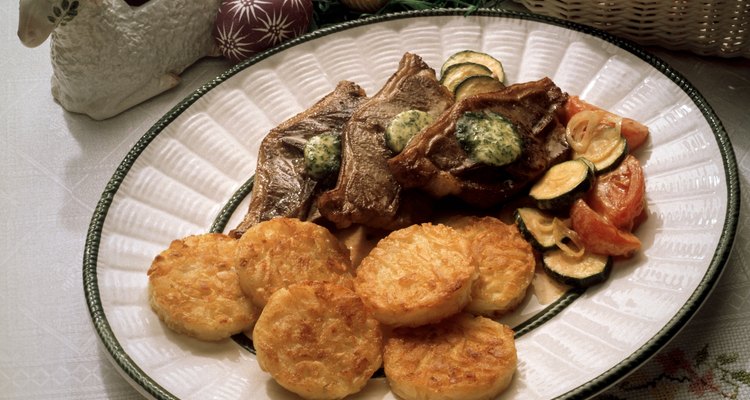 Eising/Photodisc/Getty Images
If lamb isn't in your culinary repertoire, don't be intimidated. While there are numerous cuts from which to choose, lamb shanks are from the shoulder of the lamb and are easy to handle. In fact, lamb shanks are as versatile and cooking-friendly as your favorite steak or chicken recipes. To make your lamb stand out, serve it with complementary sauces and sides that enhance the flavor of this protein.
Sauces
The tender qualities of lamb make it a natural for sweet-based sauces, which means your kids are more apt to try a new dish if there's a sweet aftertaste. The classic accompaniment to lamb is a mint sauce; but if that seems too basic or pungent, put your signature flair on it by mixing in cherry or strawberry preserves. A mixed berry compote spooned onto lamb creates a lovely spring dish. If sweet isn't the way you swing, try serving your shanks with just the basic brown au jus from the cooking pot or make a heady gravy from the braising liquid.
Sides
Potatoes are a versatile side that complement most proteins, and lamb is no different. Smashed, garlic potatoes can be made the day prior and re-hydrated with a touch of milk and butter. Or while your shanks cook, potatoes tossed with olive oil and dry ranch seasoning mix roast beautifully in the oven. Sauteed or roasted asparagus drizzled with butter is a fancy side dish that take only minutes to prepare. If you're grilling your shanks, throw some sliced eggplant, zucchini, peaches and red onion on the grill and serve them with buttery couscous.
Starters
If your Friday night dinner party menu includes lamb, you'll want to serve a starter that complements the meat. Given lamb's natural inclusion with Mediterranean-based recipes, assemble a simple platter of hummus, pita triangles, grape tomatoes, brined olives and roasted red peppers, and your kids can pitch in by plating the appetizers on a large platter. If you're aiming for more of an uptown feel, serve a simple pear, gorgonzola and romaine salad tossed with a creamy dressing or blush-wine vinaigrette.
One Pot
The one-pot meal is a busy mom's saving grace as she can throw everything into one pot or slow cooker and leave it to tend to kids and her endless to-do list. Instead of your favorite beef stew, substitute cubed cuts of lamb shank instead then add a full-bodied red wine to the pot. The wine will cook away, making the dish appropriate for children, but it leaves a layer of flavor that enhances the lamb. Braised whole shanks, swimming in a pot with cannellini beans and a simple trio of potatoes, carrots and onions, make a simple, elegant meal.
References
Resources
Writer Bio
Kristie Brown is a publisher, writer and editor. She has contributed to magazines, textbooks and online publications. Brown holds a Bachelor of Arts in English from the University of Texas at Austin.
Photo Credits
Eising/Photodisc/Getty Images