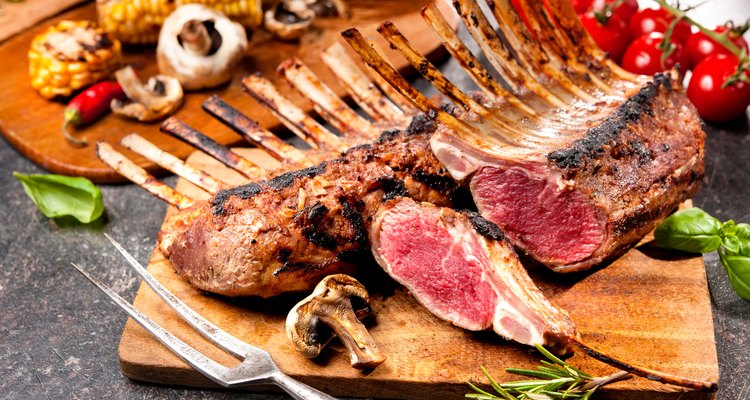 AlexRaths/iStock/Getty Images
A special occasion main course is rarely more special than a rack of lamb. The meat between the ribs, or the rack, is removed for the presentation, and sometimes little white caps are placed over the rib bone ends, which adds a formal, decorative touch. Rack of lamb is the indisputable centerpiece of a dinner that includes it, and the supporting dishes complement, without overshadowing its role.
Definition
Rack of lamb is the rib section of the lamb, and the meat in the area is tender because, encased in bones, the lamb virtually never exercises the muscles. The time required to cook it is relatively short, and the dressing often includes bread crumbs, herbs, lemon, parsley, garlic and butter. Sometimes a veal demi-glace is applied. The browning on each side in a skillet ensures the meat caramelizes and obtains a crisp texture, while the oven roasting attends to the internal cooking requirement.
Appetizer
A simple appetizer provides a subtle precursor to the main course. A red wine reduction with goat herb encrusted goat cheese and baguette slices, or artichoke with bread crumbs and lemon and garlic butter are understated and complement rack of lamb in flavor and style.
Side Dishes
Classic accompaniments include herb-roasted potatoes, sauteed green beans with almond slivers, a warm salad of seasonal vegetables with a Dijon vinaigrette, asparagus with hollandaise sauce or mashed potatoes with white truffle oil. These dishes follow a traditional and gourmet approach.
Dessert and Wine
A dessert that quietly ties off the meal includes elegant, simple flavors and classic preparations. A hazelnut and browned butter ice cream with chocolate sauce, raspberry pana cotta with whipped mascarpone cream or crystallized ginger ice cream with a toffee and chocolate encrusted cookie are appropriate choices. A medium-bodied red wine, such as a pinot noir, Burgundy or syrah pairs well with lamb.
References
"Food Lover's Companion"; Sharon Tyler Herbst and Ron Herbst; 2007
Writer Bio
Based in Richmond, Va., Tara Carson has written articles for editorial and corporate online and print publications for more than 10 years. She has experience as an adjunct professor of nutrition at Northwest Christian University and holds a Bachelor of Science in journalism and nutrition from Virginia Commonwealth University.
Photo Credits
AlexRaths/iStock/Getty Images