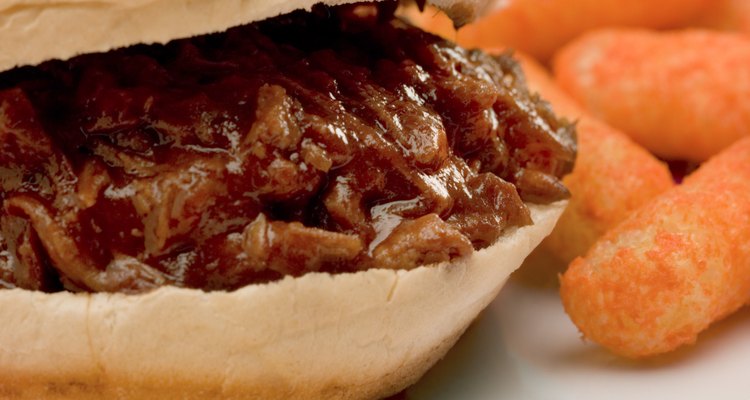 Jupiterimages/liquidlibrary/Getty Images
Cubed pork is a highly-versatile commodity to have in your kitchen. Typically, cubed pork comes from loin or shoulder pork cuts, but it can also come from virtually any cut, depending on your preference. You can easily whip up a variety of meals using pork, whether you want to make a quick dish to please kids or a more impressive dish for a dinner party.
Heavenly Chile Verde
Always a crowd-pleaser, chile verde is a great dish with cubed pork. First make the salsa verde by putting chicken broth, tomatillos, green onions and garlic in a blender, blending to a sauce. Next, brown the pork in a big pot with salt and pepper. After the pork has browned, remove it from the pot and set aside. Then brown onion and tomatillos in the pot, adding cumin while you stir. Return the pork to the pot and add the salsa verde, along with green chiles and oregano. Simmer until the pork is tender and serve with warm tortillas.
Classic Barbecue Pork
When you need a hearty meal, barbecue pork will never disappoint. Start by browning cubed pork in a frying pan, and then add onion and fennel, cooking until browned. Next add salt, chili powder, paprika, cumin, black pepper, tomatoes and cider vinegar. Let simmer until the pork is tender. Once your pork is finished cooking, you can use it in a variety of ways. Make pork sandwiches with Kaiser rolls, or make a salad with tossed greens, avocado and fresh tomato.
Impressive Greek Kebabs
Make Greek-inspired kebabs to shake up your usual pork recipes. For this dish to work best, marinate the cubed pork over night. Whisk together red wine, oregano, cumin, salt, thyme, cinnamon and garlic in a large bowl. Then toss the meat in the marinade and put in the fridge to chill overnight. The next day, arrange your pork on wooden skewers, season with salt and pepper and broil the kebabs until cooked through. To make a traditional Greek yogurt dipping sauce, mix together finely-chopped cucumber, yogurt, mint, olive oil and minced garlic.
Sensational Stew
Make a pork and sweet potato stew for food that will stick to your bones. In a large pot, heat olive oil and cook onions until translucent. Add garlic, cooking until browned. Add a Tbsp. of flour and cook for another minute before adding about 1/2 cup of dry white wine while you scrape the bottom of the pot to bring up the browned bits. Then add chopped and peeled sweet potatoes, a can of tomatoes, chicken stock, thyme, bay leaf and salt. Simmer until the vegetables are cooked, then add cubed pork and simmer again. Top with pepper and parsley.
References
Writer Bio
Ashley Walton holds a master's degree in English and has taught various courses at Brigham Young University, including rhetoric in new media and transatlantic literature. She has worked as an online copywriter for the last five years, and has eight years of copy editing experience.
Photo Credits
Jupiterimages/liquidlibrary/Getty Images