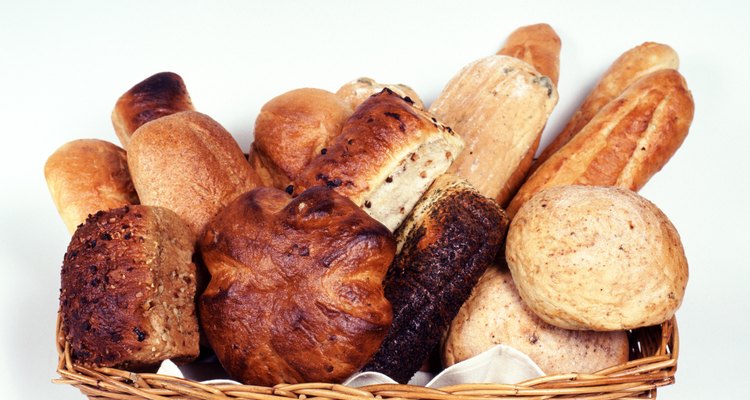 John Foxx/Stockbyte/Getty Images
Sweet or spicy, there are many types of bread you can add to a spaghetti dinner. The bread not only helps fill everyone up, it can act as a sponge to soak up spaghetti sauce. However, using the wrong bread can ruin the flavor of the spaghetti. The key to a tasty meal is to consider what bread will work best with your chosen sauce.
Simple Breads
Sometimes simple is best, especially if you're looking for bread to pair with a rich spaghetti sauce. Serve white, potato or wheat rolls to give a powerful sauce a mellow background flavor. Add sourdough slices to the dinner menu to give any sauce a slightly tangy taste. Pair spaghetti sauce with crusty French or Italian bread slices to add a crisp texture to your meal.
Sweet Breads
Sweetly flavored breads can help enhance the sweetness of the tomatoes and herbs found in spaghetti sauce. Pair spaghetti sauce with honey wheat bread for a hint of sweetness, or try it with honey Hawaiian rolls for a noticeably sweet twist. Serve sweet basil bread slices with any type of spaghetti sauce, from simple to spicy, to gently echo the sweet flavor of tomatoes. Combine any sauce with honey white and sweet paprika rolls for a little sweet and spicy flavor.
Spicy Breads
Spicy breads are all about adding a little fire to your spaghetti dinner. Combine any spaghetti sauce with a garlic and sun-dried tomato bread for a whisper of spice. Try spaghetti with celery and fennel seed wheat rolls for a mellow taste with an occasional sharp flavor. Pair a sweet spaghetti sauce with rosemary and black pepper rolls for a moderate bite. Serve pickled pepperoncini bread slices to give a simple sauce a tangy kick.
Savory Breads
Breads with savory toppings help turn your average spaghetti dinner into something worth drooling over. Smear any bread with garlic butter for a hint of spice. Sprinkle Parmesan and mozzarella cheese over Italian or French bread slices to make a cheesy treat that pairs well with any spaghetti sauce. Coat wheat or white bread slices with pesto -- a pulverized mixture of basil, oil, garlic, pine nuts and Parmesan cheese -- for a strong herbal flavor. Cover sourdough slices with a mixture of sun-dried tomato paste, roasted garlic paste and olive oil to give any sauce a powerful tang.
Writer Bio
A writer since 2000, Aya Pauli has covered a variety of topics including food, fashion, beauty, health, parenting, education, decor and crafts. Her award-winning recipes have been published in food magazines such as "Taste of Home," and she is also the author of a salad cookbook. Pauli's craft projects appear in major manufacturer websites, including Dow Styrofoam. She also holds a CDA in early childhood education and works as a preschool teacher in Wyoming.
Photo Credits
John Foxx/Stockbyte/Getty Images