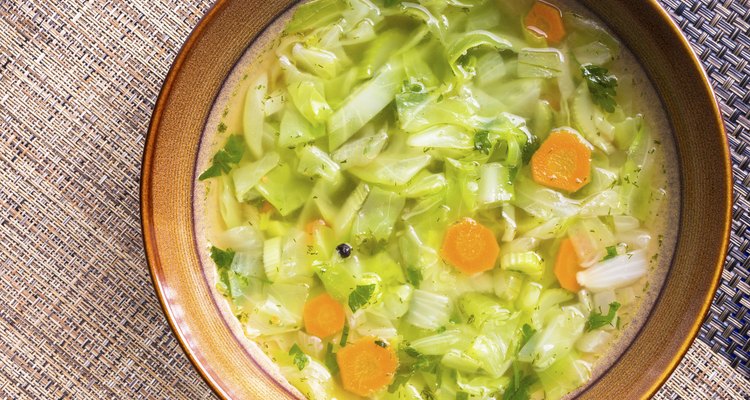 Hearty and earthy soups, such as Irish bacon and cabbage, make a meal in themselves, with other foods playing accompanying roles. Developed by Irish chef Paul Flynn of The Tannery restaurant on the southeast coast of Ireland, bacon and cabbage soup uses savoy cabbage, a mild but flavorful loose-leaf cabbage, and Irish bacon, which is similar to Canadian bacon. Choose side dishes with flavors or textures that contrast with the soup to create a balanced effect.
Start with a Starter
Many of Chef Flynn's meals begin with an antipasti plate, but you can serve the small bites alongside the soup as part of the meal itself. Because the soup has mild flavors, tangy olives, pickled vegetables and strong cheeses, such as blue cheese or Gorgonzola, all provide interesting contrasts to the soup. Serve mild-flavored crackers along with the cheese and a quince fruit paste for a hint of sweetness to balance the other tangy foods.
Pair it with Bread
If you don't serve cheese and crackers, you'll need to serve bread to add something chewy and grainy to the meal. A whole-grain roll or bread, such as pumpernickel or rye, would add both chew and flavor to contrast with the smooth texture of the soup. For an Irish touch, serve whole-grain Irish soda bread with currants or raisins, for sweetness that adds an additional dimension to the salty bacon and mild cabbage.
Go for Soup 'n Salad
While it may be a cliche to serve soup and salad as a meal, the combination is a classic one that works. The coolness and crunch of a salad with any crisp lettuce and acidic dressing perfectly balances the hot and savory soup. Add fresh vegetables, such as red bell peppers or sliced red onions, to provide both a visual and flavorful contrast, and toss on toasted walnuts for even more crunch.
Just Dessert!
One of the benefits of serving a hearty soup for dinner is that you get to splurge on dessert. As with the other parts of the meal, choose a strongly flavored dessert for a contrast with the mild cabbage soup. Earthy desserts, such as gingerbread or pumpkin pie, would fit the bill, but so would an unexpected contrast, like chocolate cake. If you haven't already served bread with the soup, go for an Irish bread pudding with raisins and a caramel-Irish whiskey sauce.
References
Writer Bio
Susan Lundman began writing about her love of cooking, ingredient choices, menu planning and healthy eating after working for 20 years on children's issues at a nonprofit organization. She has written about food online professionally for ten years on numerous websites, and has provided family and friends with homemade recipes and stories about culinary adventures. Lundman received her M.A. from Stanford University.