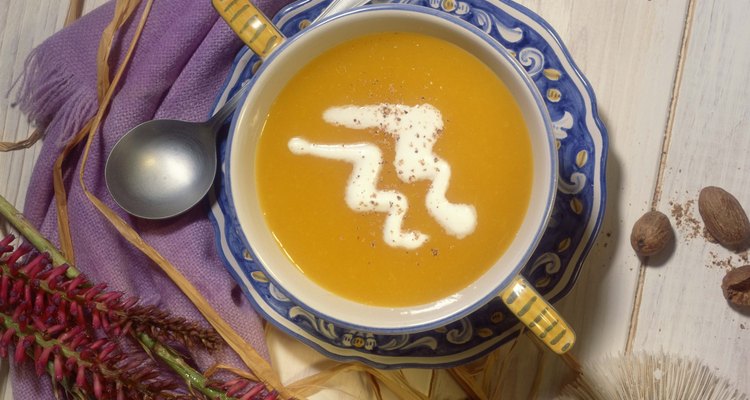 Jupiterimages/Comstock/Getty Images
Soup can be a main course or it can act as an opener for a splendid meal to follow. Either way, sometimes it deserves a special presentation. Casual or fancy, you can serve soup in a number of creative and interesting ways, either as individual servings or centered upon the table.
Tureens
Tureens are actually an old-fashioned way of serving soup family style, but you'll find many fanciful vintage tureens at flea markets and antique shops that will provide a creative edge to your table presentation. Tureens are made from china, stoneware and even bare stainless steel. The china and stoneware varieties can be plain white or painted in a solid color or with fanciful landscapes and greenery.
Pumpkin Shell
Pumpkin soup served in a pumpkin shell is a whimsical dish perfect for harvest season feasts. Some recipes call for roasting the soup right in its shell; others ask you to ladle the cooked soup into a prepared raw shell. The latter is less risky, as sometimes the pumpkin shell splits in the oven. It's also possible to use mini-pumpkins and provide individual servings of soup to diners. You might consider surprising your guests with a non-pumpkin soup served in a pumpkin shell -- a green soup for color contrast, perhaps.
Bread Bowl
Soup served in a bread bowl can be found in various restaurants across the country, but you can certainly serve it in a similar way at home. You'll need a fine-textured bread and, preferably, a thick and creamy soup. Sourdough is a popular choice. Round loaves tend to work best. This presentation works well for main dish soups, as each diner will get his own loaf, making for a filling entree.
Shot Glass
Soups served in shot glasses -- sometimes called soup shooters -- can be served as appetizers, as an amuse-bouche at a sit-down formal dinner or on trays at a buffet or cocktail party. If you are serving soup warm, make sure to use heat-resistant glasses. Chilled soups work well in shot glasses as well. Another option is to serve soup in small tea cups, especially the petite ones intended for Chinese and Japanese tea service. Since you will be serving this soup without a spoon, make sure it is both smooth and thin enough to swig.
References
Writer Bio
Lori A. Selke has been a professional writer and editor for more than 15 years, touching on topics ranging from LGBT issues to sexuality and sexual health, parenting, alternative health, travel, and food and cooking. Her work has appeared in Curve Magazine, Girlfriends, Libido, The Children's Advocate, Decider.com, The SF Weekly, EthicalFoods.com and GoMag.com.
Photo Credits
Jupiterimages/Comstock/Getty Images