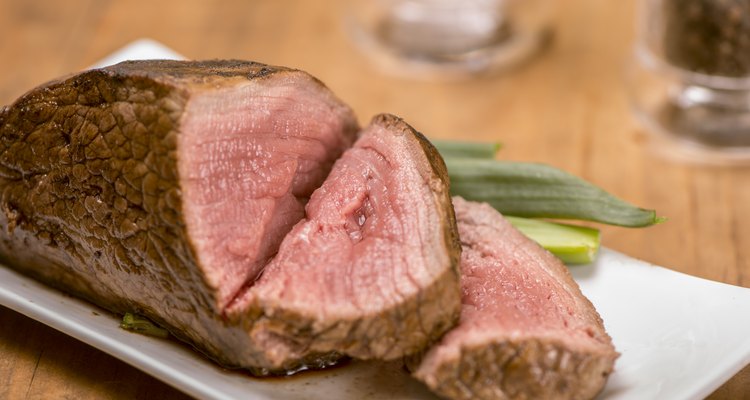 Jparesl/iStock/GettyImages
Rich, delicious and tender to the fork, a spoon roast is an easy main course that tastes like you've slaved away in the kitchen all day. Made from a top sirloin roast, the spoon roast earned its name for its tenderness. It takes just a few steps to cook this crowd-pleasing favorite. Impress guests at your next dinner party or holiday celebration by serving this tender cut with root vegetables, salad or an elegant risotto.
Preheat the oven to 425 degrees Fahrenheit.
Set the roast on a plate and allow it to stand at room temperature for about 45 minutes before cooking.
Season the roast. Using kosher salt and black pepper, rub the meat on all sides with a generous amount of both seasonings.
Heat the olive oil in an oven-safe skillet until it is warm, but not boiling.
Carefully place the roast in the hot skillet. Brown all sides over medium heat. It should take about three minutes to brown each side.
Place the skillet in the oven. Cook the roast for about 30 minutes or until a meat thermometer inserted in the center of the roast reads 130 degrees Fahrenheit for rare.
Transfer to the cutting board and let the meat rest at room temperature for 10 to 15 minutes before cutting and serving.
References
Resources
Tips
If you want to add more seasonings to your roast, add dried rosemary or ground sage to the kosher salt and black pepper rub.
For medium, cook the roast to an internal temperature of 160 degrees. Your roast will be well done at 170 degrees.
Spoon roasts are especially delicious when accompanied by a sauce or gravy. Serve yours with a mushroom wine sauce or brown gravy.
Warnings
Improper handling of raw meat can cause illness. Wash your hands and sanitize all work surfaces after handling raw meat.
Spoon roasts should have an internal temperature of 145 degrees Fahrenheit after resting for three minutes on the cutting board. Dangerous bacteria responsible for foodborne illnesses may still be present in meat that has not reached this resting temperature.
Writer Bio
Meg Winkler began professionally writing in 2008. She has covered a variety of topics including fine wine, interiors, the arts, lifestyle and history. Winkler has been a luxury publications editor and music critic. She is an independent author and holds a Master of Arts from American Military University.