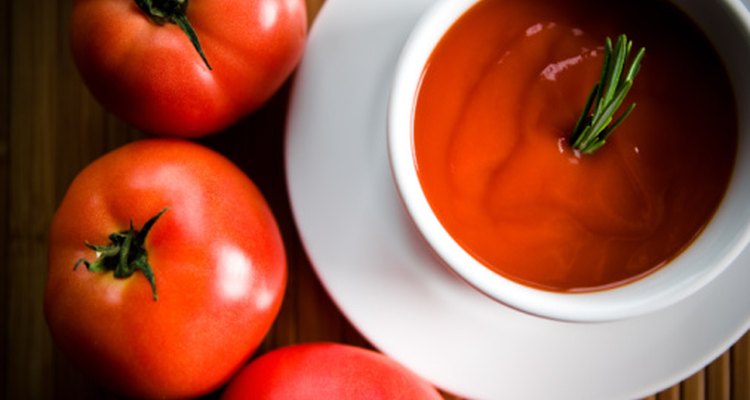 Jupiterimages/Photos.com/Getty Images
Tomato soup is the quintessential comfort food. Warm, flavorful and bright, tomato soup goes great with gooey grilled cheese or cold cut sandwiches. There are many variations on tomato soup, each with its own way to complement the tomato's sweet, acidic flavor. Most tomato soups are pureed, but you can decide just how smooth or chunky to make yours.
Tomato Basil Soup
This basic tomato soup is easy to prepare. Chop 1 medium onion. Saute the onion in 2 tbsp. olive oil until softened and translucent, about 7 minutes. Add 3 lbs. fresh peeled, chopped tomatoes or two 28 oz. cans of chopped tomatoes to the pot. Add the juice left over from chopping the tomatoes or the juice from the cans to the pot as well. Simmer over medium-low heat for about 20 minutes, or until the tomatoes are covered in their own juices. Stir in 1/2 cup thinly sliced fresh basil. Simmer for another 5 minutes, then remove from heat. Puree the soup in batches in a blender until smooth. Season with salt and pepper to taste and serve.
Tomato Bisque
This thick, creamy soup is a variation on traditional tomato soup. Melt 4 tbsp. butter in a large pot over medium heat. Add one medium chopped onion, one medium chopped carrot, one stalk of chopped celery and two cloves of minced garlic to the pot. Cook until just softened, about 5 to 10 minutes. Add 1/4 cup all-purpose flour to the pot and stir to coat vegetables. Stir in 4 cups chicken or vegetable stock, 3 tbsp. tomato paste and one 28 oz. can of drained diced tomatoes. Simmer for about 25 minutes, then remove from heat. Puree the soup in a food processor or blender, in batches, then return to pot. Stir in 3/4 cup heavy cream and salt and pepper to taste.
Tomato Bread Soup
Tomato bread soup, also know as Pappa al Pomodoro, is a traditional Italian soup. It's a perfect way to use up stale Italian bread. Heat 3 tbsp. olive oil in a medium-sized pot. Add one small chopped onion and one clove of minced garlic to the pot and saute until the onion is soft and translucent, about 5 to 10 minutes. Meanwhile, peel, remove the seeds and chop 1 lb. fresh, ripe tomatoes. Add the tomatoes to the pot along with one 28 oz. can crushed tomatoes. Simmer until the fresh tomatoes begin to break down, about 5 minutes. Tear about 3/4 cup Italian bread into chunks. Add it to the pot and simmer for 10 minutes. Season with salt and pepper to taste. Garnish with sliced basil and grated Parmesan cheese.
Gazpacho
Gazpacho is a traditional Spanish soup. Unlike most soups, gazpacho is served cold and made from raw vegetables. Cut one English cucumber, one red bell pepper, five plum tomatoes and one red onion into 1-inch cubes. Add each vegetable to a food processor, separately, and pulse until coarsely pureed. Be careful not to over-puree the vegetables. Combine in a large bowl with two cloves of minced garlic, 1/4 cup olive oil and 1/4 cup white wine vinegar. Stir in 2 cups tomato juice and season with salt and pepper to taste. Refrigerate the gazpacho for several hours before serving. The longer the gazpacho sits, the deeper the flavors become.
References
"The Joy of Cooking"; Irma S. Rombauer, et al; 2006
Writer Bio
Irena Eaves began writing professionally in 2005. She has been published on several websites including RedPlum, CollegeDegreeReport.com and AutoInsuranceTips.com. Eaves holds a Bachelor of Science in journalism from Boston University.
Photo Credits
Jupiterimages/Photos.com/Getty Images