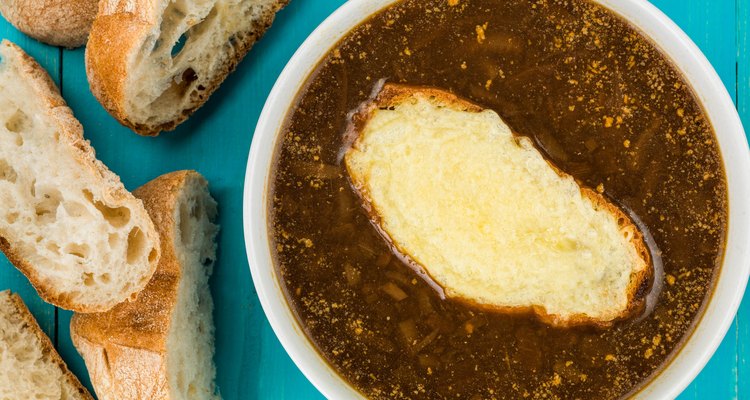 martinrlee/iStock/GettyImages
The sweetness of caramelized onions melds with a rich beef broth to create French onion soup. Traditionally, the soup is served in individual oven-proof bowls, topped with a toasted slice of bread and smothered in melted cheese. As an added bonus French onion soup is an inexpensive lunch entree if you skip the wine or cognac that some recipes add. The challenge is what to serve with the soup for a satisfying lunch.
Side Salads
A crunchy salad pairs well with the silky soup. Consider pleasantly bitter greens such as escarole, frisee or chopped kale to contrast with the sweetness of the onions. Add shreds of the same cheese the soup is topped with to the salad. Caesar salad is another option. For safety's sake, don't use a raw egg in the dressing. Add a bit more mustard to bind the oil and vinegar. Shred radishes, cucumbers, carrots and celery for a slaw dressed lightly with mayonnaise.
Cooked or Raw Vegetables
Vegetables add color to the plate and round out the lunch. Try shredded carrots, parsnips and beets. A medley of green, purple and yellow beans is pleasing to the eye and the palate. Avoid strongly flavored vegetables such as broccoli, cabbage or turnips. Cook the vegetables briefly so they're still crisp to contrast with the soup. Carry through on the French theme by offering raw vegetables with aioli -- a French sauce made with mayonnaise, garlic, lemon juice and cayenne pepper -- for dipping.
Open-Faced Sandwiches
Pair the soup with a sandwich. Serve sandwiches open-faced because the soup is also topped with bread. A thinly sliced roast beef goes well with French onion soup because the basis of the soup is beef broth. Other sandwich options include salty ham on cocktail rye bread or olive tapenade -- olive salad -- served on French baguette slices.
Fruit and Crackers
Fruit and cheese go together, so fruit pairs well with cheesy onion soup. Serve pear and apple slices. Cut the slices right before eating or dip them in a combination of lemon juice and water to keep them from turning brown. Other fruits that would work include grapes, figs and strawberries. Cracker choices include rye, water, sesame seeded or Melba toast. Make your own crackers by slicing the same bread used to top the onion soup thinly, then toast it in the oven until the bread is golden brown. You could do this at the same time the cheese is melting over the soup.
References
Splendid Soups; James Peterson
Writer Bio
Katie Jensen's first book was published in 2000. Since then she has written additional books as well as screenplays, website content and e-books. Rosehill holds a Master of Business Administration from Arizona State University. Her articles specialize in business and personal finance. Her passion includes cooking, eating and writing about food.