Jupiterimages/Comstock/Getty Images
Butternut squash has been a mainstay in North American meals since 3000 B.C., when Native Americans feasted on what they named the apple of the gods. Today, this versatile vegetable finds a place in many seasonal autumn foods, including soups. Depending on the spices and seasonings you use, butternut squash soup can provide a sophisticated and savory or a sweet and almost dessert-like accompaniment to a family meal.
Main Courses
Butternut squash is a naturally sweet vegetable. Soups made with butternut squash tend to incorporate seasonal fruits, such as pears or apples, that add to the sweetness of the soup. Spice it up with bolder seasonings like ginger, cinnamon, rosemary or sage. Serve spicy or savory main courses to balance the sweetness of most butternut squash soups. For example, grilled herbed chicken or roast pork give your taste buds a break from the squash's natural sweetness. For vegetarians, balsamic-marinated portobello caps or pasta tossed with olive oil and Italian spices are good main course menu choices.
Sides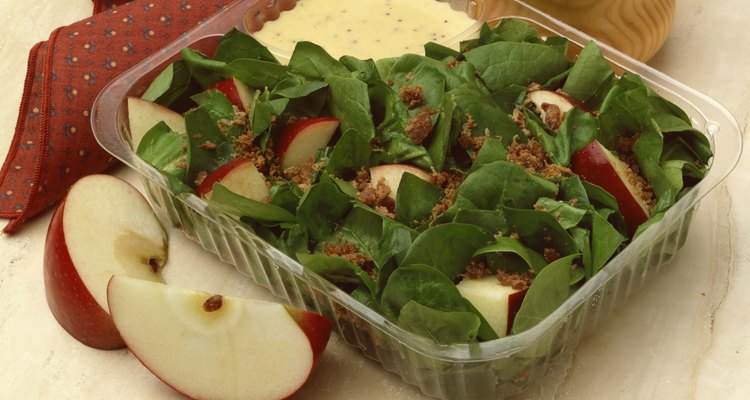 Jupiterimages/Comstock/Getty Images
While farmers are bringing in the squash harvest, they are also picking fresh vegetables that go well with butternut squash. Fresh greens like spinach, Swiss chard, kale, collards and mustard greens have slightly bitter flavors that complement butternut squash. To cut the bitterness, add a splash of vinegar and a pinch of sugar, or incorporate dried raisins or cranberries. A light cream sauce or creamy ranch dip may tempt the kids to eat their vegetables. Long grain and wild rice also go well with butternut squash soup. Avoid sides that include other squashes. Despite the variation in shape and color, winter squashes all tend to have a sweet flavor and creamy texture.
Breads and Extras
Many butternut squash soup recipes recommend serving the soup with a crusty bread for a good reason: Thick, creamy butternut squash soups practically beg for a hearty piece of bread for cleaning the bowl. Garlic or seasoned bread adds an extra zip that can temper the soup's sweetness. Seasoned croutons add both taste and texture to this smooth soup. Toast and salt the seeds you remove from the squash and sprinkle them on the soup for added crunch. A pinch of sharp white cheese and a dash of dried sage can dress up this soup.
Kid-Friendly Ideas
The sweet taste and pretty color of butternut squash soup can encourage even the pickiest child to eat his vegetables. Serve your child butternut squash soup along with a grilled cheese sandwich and apple slices or raisins. For a special treat that kids and kids-at-heart will enjoy, remove the seeds from a small pumpkin and use the hollowed-out squash as a bowl.
References
"Simply in Season"; Mary Beth Lind, et al.; 2005
"A Harvest of Pumpkins and Squash: Seasonal Recipes"; Lou Seibert Pappas; 2007
"Serving Up the Harvest: Celebrating the Goodness of Fresh Vegetables"; Andrea Chesman; 2007
Photo Credits
Jupiterimages/Comstock/Getty Images