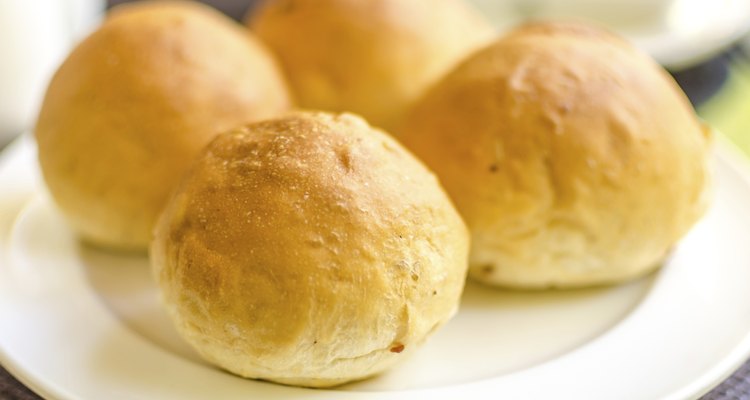 finallast/iStock/Getty Images
A bread roll is generally made using yeast, flour, egg, sugar, salt and butter; these rolls are often served with dinner and some people use them to clean their palates between courses. The calories in a bread roll may help you meet your nutritional goals and energy requirements.
Calories
A 1-oz. bread roll -- approximately the size of a billiard ball -- contains 84 calories, according to the CalorieKing website. This amounts to 4.2 percent of the calories you should eat daily if you are following a 2,000-calorie-per-day diet. Rolls may vary in their caloric intake depending on the ingredients and what toppings you might put on the roll.
Nutrients
A 1-oz. bread roll provides 14.1 g of carbohydrates, a nutrient that accounts for some of the calories in a roll. The Institute of Medicine recommends consuming 130 g of carbohydrates each day to meet your basic energy needs. One roll accounts for nearly 11 percent of the carbohydrates you need daily. A roll also contains 2.4 g of protein and 2 g of fat. The nutrient content may vary depending on the ingredients in the roll.
Considerations
If you are watching your salt intake, understand that a 1-oz. bread roll contains 146 mg of sodium. This accounts for nearly 9 percent of the 1,500 mg daily limit the American Heart Association recommends. Note that sodium content will vary depending on the amount of salt in the roll recipe.
References
Writer Bio
Nicki Wolf has been writing health and human interest articles since 1986. Her work has been published at various cooking and nutrition websites. Wolf has an extensive background in medical/nutrition writing and online content development in the nonprofit arena. She graduated with a Bachelor of Arts in English from Temple University.
Photo Credits
finallast/iStock/Getty Images