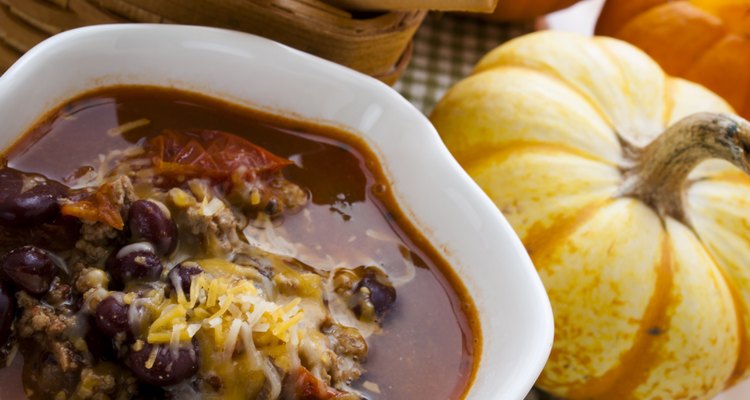 arinahabich/iStock/Getty Images
Turkey chili is a healthy dish – one that you can find a recipe for in the South Dakota Diabetes Control Program Cookbook. Turkey chili is low in calories and only contains 1 g of fat per serving.
Calories
One serving of turkey chili contains 303 calories when prepared using 2 cups of cooked turkey, ½ each of onion and green pepper, a cup of water, 16 ounces of cooked kidney beans, 6 ounces of tomato paste, 28 ounces of canned tomatoes and chili and garlic powder.
Considerations
To lower the calorie content of turkey chili, add fewer beans and more vegetables to this dish. Two cups of cooked kidney beans contain 440 calories, whereas one half cup of green pepper contains only 20 calories. A half of a cup of onions contains 45 calories. You can also eliminate one cup of kidney beans, replacing it with ½ cup of corn.
Warning
Eating uncooked beans is associated with a food poisoning called phytohaemagglutinin, which can cause vomiting and diarrhea. To avoid becoming afflicted with phytohaemagglutinin, use canned kidney beans, or soak raw kidney beans in water for no less than five hours, drain, add fresh water and boil the beans for no less than ten minutes before combining the beans with the other ingredients in turkey chili.
References
Writer Bio
Based in New York, Grace Covelli has been writing since 1996. Her work has appeared on various websites, many of them health-related. Covelli completed a course in writing for children and teenagers and received a diploma for natural health consulting with highest honors. She also studied reflexology, Reiki and esthetics. One of her hobbies is sewing.
Photo Credits
arinahabich/iStock/Getty Images