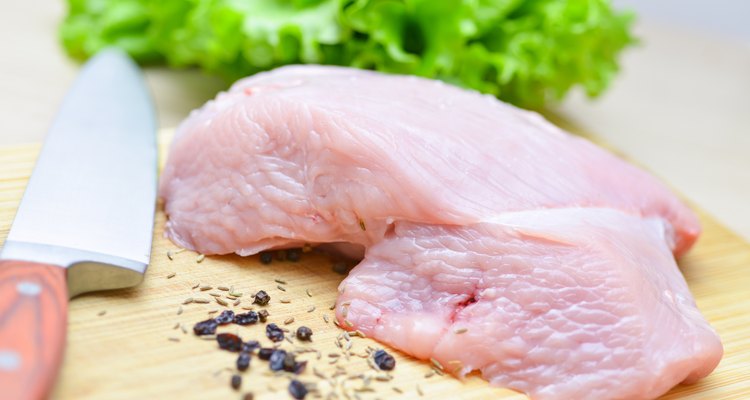 Natalica/iStock/Getty Images
To smoke a turkey breast, coat with mustard or mayonnaise and wrap in a protective covering since it is skinless. You can also add other spices and herbs according to your taste, then wrap. This keeps the turkey breast moist while it is smoking. You can also pound the turkey breast, also known as tenderizing, to make it thin. Then cut and stuff with cheese, herbs or any other ingredients.
Prepare a smoker. If you don't have one, try placing coals on a kettle grill on the outside ring to provide indirect heat. Keep a pan in the grill center and fill it with water. To create smoke, use apple wood chunks.
Apply olive oil over the turkey breasts. Coat the breasts with mayonnaise and mustard. Wrap with two to three thin slices of prosciutto, a spicy Italian ham. Slightly overlap each piece. Secure the prosciutto with toothpicks. This will keep the turkey moist and provide extra flavor.
Place the turkey on the smoker and cover it with the lid. Insert a thermometer at the thickest portion of the turkey and smoke between 230 to 270 degrees Fahrenheit. You can also wait till the instant-read thermometer reaches 160 or 165 degrees Fahrenheit. This could take one to two hours.
Remove the turkey when it turns to a slightly pinkish hue and allow it to cool for about 10 minutes. Cut half-inch slices and serve warm.
References
"The BBQ Queens' Big Book of Barbecue"; Karen Adler, Judith M. Fertig; 2007
"Smokin' Recipes for Smoking Ribs, Salmon, Chicken, Mozzarella and More"; Christopher Styler; 2004
Writer Bio
Joe Lewis started writing professionally in 2010 for various websites. He holds a Master of Science in nutrition and dietetics.
Photo Credits
Natalica/iStock/Getty Images