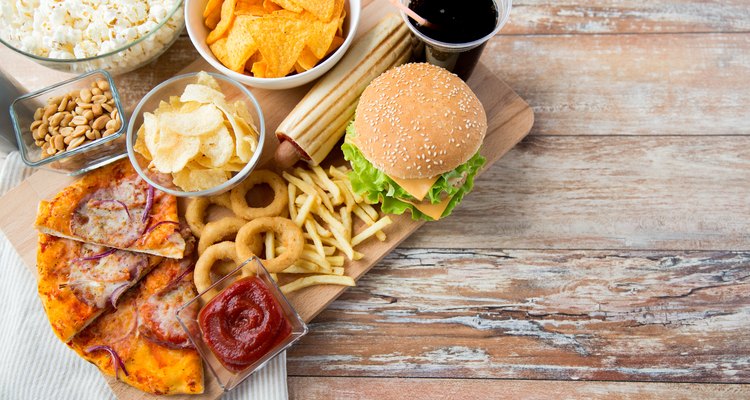 dolgachov/iStock/GettyImages
On some days, you crave a double cheeseburger, crispy fried chicken or a loaded pizza, but on other days, steamed vegetables and orange chicken may suit your mood. More than a quarter of American adults make a stop at a fast food restaurant a part of their daily routine. The wealth of the different kinds of fast food, its low price and the convenience of having someone else prepare our meal ‒ all create a temptation many of us can't deny.
1) Sandwiches
If you measure by the number of storefronts, Subway is the largest fast-food chain in the world. The name comes from the word submarine, one of the many names for a sandwich stuffed with meat, cheese and vegetables served on a long roll. Bridgeport, Connecticut, was the site of the first Subway store; it opened in 1965.
Arby's opened in Boardman, Ohio, in 1965, selling roast beef sandwiches served on a soft roll. Over the years, the chain added other meats, including ham, turkey and chicken, dressed with either horseradish, or "Horsey," sauce; barbecue or a ketchup-based Arby's sauce.
Jimmy John's debuted in 1983 in Charleston, Illinois, serving four types of sandwiches and 25 cent sodas. The chain now has more than 2,700 locations.
Regional chains like Wawa, a Pennsylvania-based convenience store operation with stores in the mid-Atlantic states and Florida, have devoted fans. The first Wawa opened in 1964, but hoagies didn't become a mainstay of the menu until 1970.
2) Burgers
With apologies to Burger King, McDonald's, with more than 36,000 restaurants in over 100 countries worldwide, rules the burger world.
Burger King, founded in Miami as Insta-Burger King, comes in second. The insta-broiler became the flame broiler, and the Whopper was introduced in the late 1950s. The rest is history.
Named after founder Dave Thomas's daughter, Wendy's gained national fame with their award-winning 1984 "Where's the Beef?" ad campaign. Carhops deliver burgers, tater tots and frozen drinks at more than 3,500 Sonic Drive-In locations across the country.
If you live in the South, you've probably had a Krystal burger made with a square patty served on a square bun or a jalapeno cheeseburger from Whataburger. With more than 300 locations, primarily in the West Coast, In-N-Out Burger is a haven for carnivores. Their 4x4 has four beef patties, four slices of cheese, lettuce, tomato and onion.
3) Pizza
With $600 borrowed from their mom, Dan and Frank Carney founded the largest pizza chain in the world in 1958. Pizza Hut now employs 350,000 people in more than 100 countries. Among the company's international menu items are crown crust pizzas, available in the Middle East, and birizza, an Indian rice dish.
Domino's made its name by offering a "30-minute delivery or it's free" guarantee but had to drop it after it lost a lawsuit claiming its drivers were dangerous. Brothers Tom and Jim Monaghan founded the company in 1960 in Ypsilanti, Michigan. Just a year later, Jim sold his stake in the company for a Volkswagen Beetle.
From 2008 to 2015, Little Caesars was the fastest-growing pizza chain in the United States. The company operates in all 50 states and in 18 countries. Their Pizza Portal promotion allows customers to order ahead, then stop in a store to retrieve their pizza from a heated locker.
After a year of delivering pizza from the back of his father's bar, John Schnatter opened the first Papa John's in 1984. In 2001, the Indiana-based company was the first to institute online ordering nationwide. There are now 5,000 stores worldwide.
4) Chicken
KFC, with more than 21,000 storefronts worldwide, rules the chicken chain roost. Colonel Sanders began selling food out of his service station in Corbin, Kentucky, in 1940 and perfected his pressure-cooker-fried, secret-ingredient recipe over the next few years. He also transformed himself into the Southern gentleman persona that symbolizes the chain.
Popeyes Louisiana Kitchen, founded in 1972, is a relative newcomer to the fast food industry. With 2,000 restaurants worldwide, the company is a distant second to KFC. The "love that chicken" jingle is unmistakable, but diners are probably in the dark about the company's name. Founder Alvin Copeland renamed his original store, Chicken on the Run, for Popeye Doyle, a character in the movie "The French Connection."
Customers with a craving for Chick-fil-A are out of luck on Sundays because all of the stores are closed. Their "Eat Mor Chikin" advertising campaign, which began in 1995, features cows exhorting diners to eschew burgers.
5) Internationally Inspired
Taco Bell, named "America's Favorite Mexican Restaurant" by the Harris Poll in 2018, became the fourth-largest restaurant chain in the U.S. in 2017. Named for its founder, Glen Bell, the chain grabs attention by offering things like French toast chalupas and french fry-filled burritos in addition to tamer items like tacos and nachos.
Family-owned Panda Express, founded in Glendale, California, in 1983, is the largest Asian chain in the U.S. The restaurant's "build your own" concept invites diners to select from entrees like orange beef or honey walnut shrimp and sides such as chow mein and fried rice.
Chipotle opened as a burrito shop in Colorado as a means of funding the owner's dreams of having a fine-dining restaurant. The shop was wildly successful, and the owner abandoned his fancy restaurant concept for fast casual food. The chain serves standard Mexican food with an occasional nod to current trends, like paleo and keto diets.
6) Sweets
Diners in search of the freshest, most delicious coffee and doughnuts annually order 2 billion cups of hot and cold coffee, made from the original 1950 proprietary blend, at Dunkin' Donuts. You can also pick up ground coffee to brew at home or grab a breakfast sandwich at 12,400 locations in 46 countries.
When Dairy Queen opened in 1940, the focus was on soft-serve ice cream. It wasn't until 1949 that malts and milkshakes were introduced. In 1951, the banana split was added to the menu. By the late 1950s, Dairy Queen Braziers started selling different types of takeaway food. The Blizzard, DQ's signature ice cream treat, debuted in 1985.
Baskin Robbins introduced home delivery of its ice creams, novelties and cakes in 2017. Named for its founders, Irv Robbins and Burt Baskin, the chain's first menu included an ice cream flavor for every day of the month. The original 31 flavors has grown to more than 1,300.
7) Coffee
While Dunkin' Donuts coffee is gaining a reputation as one of the best brews around, Starbucks is king of the hill. With more than 24,000 stores worldwide, there's usually a spot nearby to grab a cup of hot coffee or a chilled drink. The first store, named after the first mate of the Pequod in Melville's Moby Dick, opened in 1971 in Seattle's Pike Place Market.
If you're on a budget, 7-Eleven might be your go-to spot for a cup of coffee to go. The company was the first to offer carryout coffee, the first with self-serve soda and the first to stay open around the clock. Founded in 1927 in Dallas, Texas, 7-Eleven now has more than 60,000 stores.
References
Resources
Writer Bio
Meg Jernigan has been writing for more than 30 years. She specializes in travel, cooking and interior decorating. Her offline credits include copy editing full-length books and creating marketing copy for nonprofit organizations. Jernigan attended George Washington University, majoring in speech and drama.