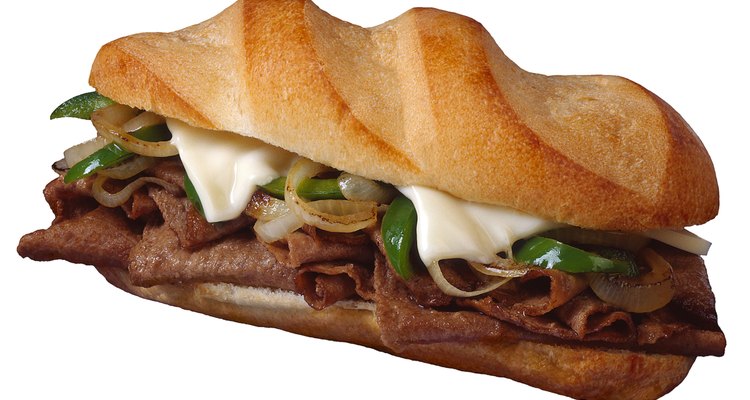 Brand X Pictures/Brand X Pictures/Getty Images
Nothing speaks to Philadelphia natives--and many others--quite like a Philly cheesesteak. This sandwich, a hoagie roll filled with chopped beef and slathered in cheese, provides a filling meal. Because the cheesesteak is uniquely tied to Philadelphia, they often are not available in other parts of the country. Recognizing that void, many companies ship cheesesteaks through the mail or through a private carrier. Knowing which of these companies offer the best cheesesteak can lead to a great meal.
Campo's Deli
Campo's Deli, which has been in the cheesesteak business for more than 50 years, receives high marks from many who visit the restaurant in downtown Philly. The Food Network sent the stars of the show Road Tasted to sample the deli's cheesesteaks, which are made to order with high-quality ribeye steak. But you do not need to go all the way to downtown Philadelphia to enjoy a Campos cheesesteak; the deli ships its cheesesteaks, too. You can buy them online at the Campo's Deli website. But beware--they do not come cheap. A single cheesesteak, complete with chips, a soft pretzel, Goldenberg's Peanut Chews, condiments and a Philadelphia postcard, is priced at $75 as of early 2010. The sandwiches are sent via overnight shipping. The company ships sandwiches Monday through Thursday only.
Campo's Deli 214 Market St. Philadelphia, PA 19106 (215) 923-1000 camposdeli.com
A Taste of Philadelphia
For more than 30 years, A Taste of Philadelphia has been supplying folks with delicious mail-order cheesesteaks. The company's customers have included Bill Cosby, Frank Sinatra and Ronald Reagan, and Philadelphia magazine rated its boxed lunch the best in the city. The 12-inch Amoroso's hoagie rolls are packed with cheesesteak and fixed to order. The company ships via overnight air express to anywhere in the United States. You can even order a dozen cheesesteaks for a party. A single cheesesteak meal is priced at $89.90 as of early 2010.
A Taste of Philadelphia 1606 MacDade Blvd. Folsom, PA 19033 (800) 846-2443 tasteofphiladelphia.com/
Philly Food
Philly Food, located near the Philadelphia International Airport, is an exclusively online company that deals only in shipping Philly cheesesteaks and other Philly foods to anyplace in the United States. Cheesesteaks are sent through UPS. Customers have the option of paying for express overnight or second-day air. The company also ships overseas. Sandwiches are never frozen; they are made fresh and then refrigerated and shipped in commercial insulated containers. Cheesesteak packages start at $87.90 as of early 2010.
Philly Food (800) 954-8294 atasteofphilly.com
References
Writer Bio
Based in Central Florida, Ron White has worked as professional journalist since 2001. He specializes in sports and business. White started his career as a sportswriter and later worked as associate editor for Maintenance Sales News and as the assistant editor for "The Observer," a daily newspaper based in New Smyrna Beach, Fla. White has written more than 2,000 news and sports stories for newspapers and websites. He holds a Bachelor of Arts degree in journalism from Eastern Illinois University.
Photo Credits
Brand X Pictures/Brand X Pictures/Getty Images