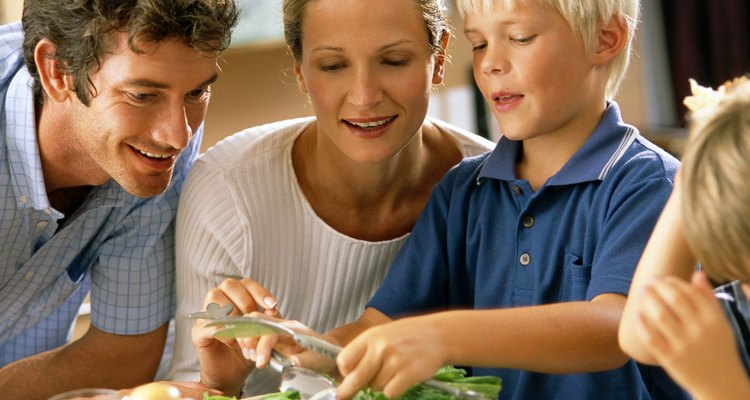 Goodshoot/Goodshoot/Getty Images
There aren't many dinner train rides in Arkansas, but those that provide the service operate in one of the most scenic parts of the state. Vintage rail cars from the late 19th and early 20th centuries add to the appeal of dinner excursions. Eureka Springs, Springdale and Van Buren, Arkansas, are hub cities to dinner rides.
Eureka Springs & North Arkansas Railway
A short, 4.5-mile round trip from the depot in Eureka Springs takes about 1.5 hours to complete. Dinner trains leave at 5 p.m. from May through October. With cars that represent what the town's first visitors rode back in 1883, Eureka Springs & North Arkansas Railway recreates an old-time experience with today's creature comforts. As of 2010, the dinner menu includes a choice of baked chicken breast, prime rib or a fish selection of the day, each served up with the chef's special soup and salad, a wild rice blend, vegetables and flaming baked Alaska. The purchase of a ticket includes dinner and train fare. Dress is casual to semi-formal, and children need to be at least 5 to join patrons in the dining car. ES & NA also offers a lunch ride that departs at noon and makes the round trip in an hour. Beef stroganoff, chicken salad and fruit, or a hot deli sandwich complete the menu. All are served with homemade bread, a beverage and a special dessert.
Eureka Springs & North Arkansas Railway P.O. Box 310 299 N. Main St. Highway 23 North Eureka Springs, AR 72632 479-253-9623
Arkansas & Missouri Railroad Club Car
Actually a lunch ride, the Arkansas & Missouri Railroad serves up a great meal in a vintage 1917-1920s-style Pullman coach complete with velvet seats and mahogany inlays. The purchase of a club ticket gets the Pullman. A 1950s parlor car is the reward for a first class ticket purchase. These rides are offered only on the railway's Van Buren to Winslow run, a three-hour round trip that takes riders through the rugged Boston Mountains. The train travels over trestle bridges that offer views of the Ozarks terrain and passes through the 1/4-mile-long Winslow Tunnel. The journey spans 70 scenic miles. Ticket prices vary for adults, children and seniors ages 65 and older, with prices a little higher during fall foliage tours.
Arkansas & Missouri Railroad 813 Main St. Van Buren, AR 72956 800-687-8600 or 479-751-8600
Holiday Express PJ Train
A & M offers a special Christmas-themed train ride on selected dates in December. The train leaves Springdale, Arkansas, at 6 p.m. and makes a round trip to Winslow. The trip takes about 3 hours, and riders enjoy Christmas lights, caroling and a visit from Santa along the way. Children are encouraged to wear their PJs for the evening ride. Club tickets include dinner, while a festive, holiday dinner is included in the first class car.
Arkansas & Missouri Railroad 306 East Emma Springdale, AR 72764 800-687-8600 or 479-751-8600
References
Writer Bio
Robert Korpella has been writing professionally since 2000. He is a certified Master Naturalist, regularly monitors stream water quality and is the editor of freshare.net, a site exploring the Ozarks outdoors. Korpella's work has appeared in a variety of publications. He holds a bachelor's degree from the University of Arkansas.
Photo Credits
Goodshoot/Goodshoot/Getty Images