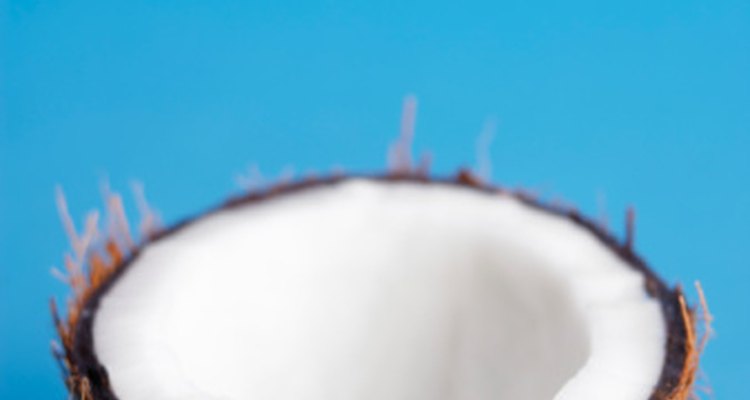 BananaStock/BananaStock/Getty Images
Coconut rice is a specialty dish common to West Africa, including Nigeria. Because it is popular, there are many different, but all of them contain rice, coconut, tomatoes, peppers, onion and spices. Some versions are cooked with chicken; others are made with fresh fish or other seafood, such as shrimp. Some recipes call for ground dried shrimp, which adds a salty fishy flavor to the coconut-sweetened rice dish, but this ingredient isn't used in all recipes.
Rinse the chicken and pat it dry with paper towels. Season the chicken with salt and pepper.
Heat a heavy frying pan. Pour the sesame oil in the frying pan and, when the oil is hot, add the chicken pieces. Fry them until they are brown on all sides. Remove the chicken pieces and put them in a soup pot with the chicken broth. Cook for another 10 to 15 minutes until the chicken is done. Remove the chicken pieces and reserve them.
Add the rice, coconut, onions, canned tomatoes and peppers to the chicken broth. Bring the mixture to a boil and reduce the heat. Cover the pot and cook the rice for 10 minutes.
Place the chicken on top of the rice, cover the pot and continue cooking until the rice is tender and all liquid is absorbed, about 10 more minutes.
References
"'My Cooking' West-African Cookbook"; Dokpe L. Ogunsanya; 1998
Resources
"A Slice of Africa: Exotic West African Cuisines"; Chidi Asika-Enahoro; 2004
Tips
For a shellfish-based dish, cook the onion and peppers in the sesame oil. Add the rice, broth, coconut and tomatoes and cook the rice for 10 minutes. Put 8 oz. of large shrimp on top of the coconut, cover the dish and continue cooking for 10 more minutes.
You can typically find unsweetened shredded coconut in health food stores.
Writer Bio
Ramona French owned a massage school and taught massage for 28 years. In that time she wrote textbooks on Swedish, acupressure, deep tissue and lymph drainage massage. She is the author of "Introduction to Lymph Drainage Massage" and "Milady's Guide to Lymph Drainage Massage." Her book, "The Complete Guide to Lymph Drainage Massage," published by Milady, was released in October 2011.
Photo Credits
BananaStock/BananaStock/Getty Images