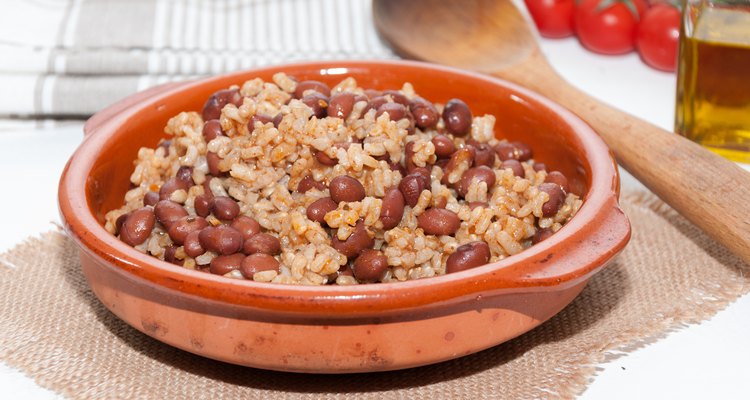 Mariamarmar/iStock/GettyImages
This Savory and Spicy Dish Will Soon Become a Family Favorite
Nothing makes mom happier at dinner time than a meal that's simple and budget-friendly. OK, maybe when the kids gobble it up, too. On your next meatless Monday, keep your veggie burgers in the freezer and whip up a one-pot vegetarian rice and beans dish. This simple and delicious meal is not only good for leftovers, but makes an easy side dish for tomorrow's dinner.
Total Time: 40 minutes | Prep Time: 10 minutes | Serves: 8
2 tablespoons oil
1 cup chopped onions
3/4 cup chopped peppers
2 teaspoons minced garlic cloves
3 cups long-grain rice
3 bay leaves
15-ounce can diced tomatoes

1 tablespoon cumin
1 tablespoon paprika
4 cups water

15-ounce can of kidney beans, drained

In a heavy sauce pan over medium to medium-high heat, sautee onions, peppers and garlic in oil until soft and golden.
Add rice to pan and coat with oil mixture. Mix in bay leaves, tomatoes, cumin and paprika.
Add water and beans to rice mixture and bring to a boil. Reduce heat to medium-low, then cover and cook until rice has absorbed all the water, about 18 minutes.
Remove rice from heat and let stand for 10 minutes.

Remove bay leaves, fluff rice with a fork and serve.
While vegetarian rice and beans serve as a complete meal on its own, you can use the mixture to create other dishes. In fact, you may want to double the recipe so you have a few extra meal options for later in the week. Spoon the rice and beans into a tortilla, roll into a burrito, top with cheese and bake in the oven until the cheese is melted. Rice and beans also add spiciness and bulk to vegetable or chicken soup. Mix in shredded chicken or pork and salsa into your extra rice and beans for another easy one-pot meal.
References
Writer Bio
Jill Corleone is a registered dietitian and health coach who has been writing and sharing her love of food, nutrition and health with anyone who'll listen for almost 20 years. Her work has been featured on the Huffington Post, Diabetes Self-Management and Working Mother.