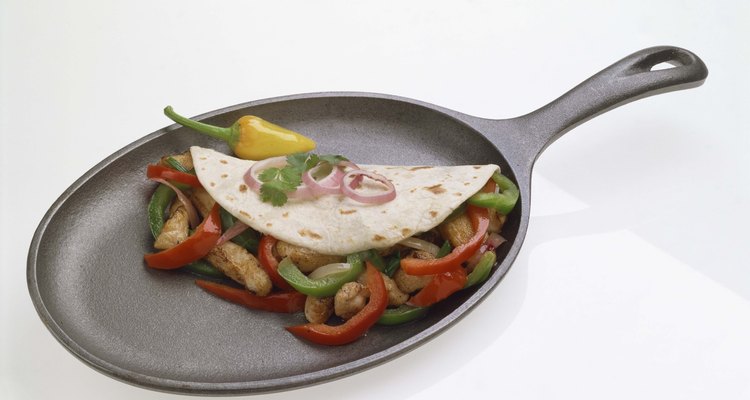 Jupiterimages/Comstock/Getty Images
In Spanish, "fajita" means little belt or little strip, a reference to the small strips of meat that make up this Tex-Mex favorite. Fajitas cook fast, making them a great choice for weekday meals for busy families. Save some time by marinating the chicken strips before heading off to work in the morning. While the chicken cooks, prepare the side dishes. Serve all of the toppings and side dishes in separate bowls so that your family and guests assemble their own meals. With a variety of extras, each person can create a combination she will thoroughly enjoy.
Tortillas and Toppings
As you grill your chicken, toss some bell peppers and onions on the grill. Provide guacamole, salsa, sour cream, grated cheese and diced tomatoes in small serving bowls. Serve your chicken fajitas with either corn or flour tortillas. Warm the tortillas briefly in the microwave just before serving.
Rice
Spanish rice is a traditional accompaniment for chicken fajitas. You can throw all of the ingredients in your slow cooker in the morning, and the rice will be ready to serve when you get home from work. The basic ingredients for this side dish are rice, water, canned tomatoes, bell pepper, onion, butter and chili powder. For more flavorful rice, use chicken or vegetable stock in place of water. Omit the chili powder if you or your family do not like spicy foods. Some people might like to wrap the rice, along with the chicken, in their tortillas.
Beans
Chicken fajitas are often served with a side of beans. You can serve either refried beans or black beans. To save time, use canned beans. Vegetarians can wrap the beans, instead of the chicken, in the tortillas.
Salad
A simple salad works well with chicken fajitas. In fact, all you need is some lettuce because the fajita toppings can double as salad toppings. Provide additional salad dressings, such as ranch or blue cheese, or encourage your guests to use the salsa as a salad dressing. Some people might want to forego the tortilla and put the chicken fajitas on the lettuce for a delicious chicken fajita salad.
References
Writer Bio
Kat Black is a professional writer currently completing her doctorate in musicology/ She has won several prestigious awards for her research, and has had extensive training in classical music and dance.
Photo Credits
Jupiterimages/Comstock/Getty Images