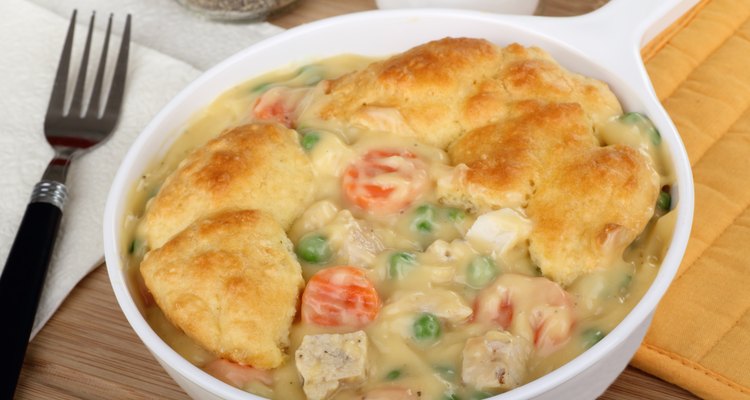 chas53/iStock/GettyImages
More Meal, Less Fuss
A hot, steaming chicken pot pie is comfort food at its most comforting, but making up the ideal two-crust version isn't always a practical option when you're pressed for time. It's simpler to make it up as a casserole, and top the savory filling with biscuits instead. This tasty chicken pot pie casserole comes together in just a few minutes, using leftover cooked chicken and frozen vegetables. Not only do you save time on preparation, the larger size means you'll have plenty of leftovers to pack up for other meals.
Total Time: 45 to 50 minutes | Prep Time: 20 minutes | Serves: 6
4 tablespoons oil or butter

1 large yellow onion, diced

1 rib of celery, chopped

4 oz. package button mushrooms, sliced (omit if your kids won't eat them)

2 cloves of garlic, minced

1/3 cup all-purpose flour

2 1/2 cups chicken broth

1 cup heavy cream

3 cups cooked chicken, diced or shredded

2 to 3 cups thawed frozen vegetables, such as peas, carrots or broccoli florets

1 teaspoon poultry seasoning

1/2 teaspoon kosher salt, plus more to taste

1/2 teaspoon fresh-ground pepper, plus more to taste

2 cups boxed biscuit mix

2/3 cup milk or buttermilk

Heat your oven to 400F, and grease or spray a 3-quart casserole dish.

In a deep skillet or Dutch oven, heat the oil, onion, celery and mushrooms over medium heat. Stir for 3 to 5 minutes, until the onions are soft and the mushrooms have released their moisture, then add the garlic and cook for one more minute.

Stir the all-purpose flour into the onion mixture with a spatula, continuing until the flour has absorbed all of the cooking oil and has coated the onions and mushrooms. Add 1/2 cup of the chicken broth, stirring until the flour and broth make a thick paste. Add the remaining broth 1/2 cup at a time, stirring vigorously, and finally the cream. Bring the mixture to a low boil, until it begins to thicken.

Add the chicken, vegetables and seasonings, and stir. Taste the chicken filling, and add more salt and pepper if you think it's needed. Some brands of broth are saltier than others, so it might not be necessary. Pour the prepared filling into your casserole dish.

In a mixing bowl, measure out the biscuit mix and add the milk. Stir until they're just combined into a soft dough.

Scoop the biscuit dough in large spoonfuls onto the top of the casserole, dividing and spacing it so that the balls of biscuit cover the filling evenly but with spaces in between for the filling to bubble up as it cooks.

Bake for 25 to 30 minutes on the middle rack, until the filling is bubbly and thickened and the biscuits are craggy and golden-brown. Remove the casserole from the oven and let it rest for at least 5 minutes before serving.
References
Writer Bio
Fred Decker is a trained chef and prolific freelance writer. In previous careers, he sold insurance and mutual funds, and was a longtime retailer. He was educated at Memorial University of Newfoundland and the Northern Alberta Institute of Technology. His articles have appeared on numerous home and garden sites including GoneOutdoors, TheNest and eHow.