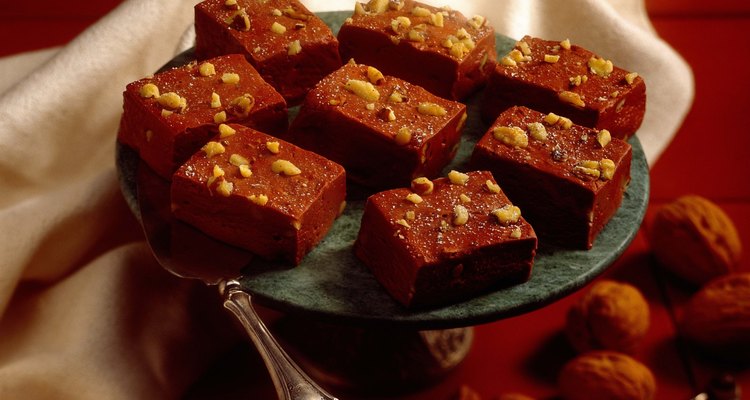 Jupiterimages/Comstock/Getty Images
Making a chocolate dessert extra special doesn't need to be a challenge, even if you have limited time and ingredients. It's easy to create intense chocolate flavor by combining two of everyone's favorite classic desserts: brownies and pudding. You can make brownies extra rich by mixing in some creamy chocolate pudding. Or, combine the two to create a decadent cake, pie or trifle in a jiffy. You can have your cake -- and eat your pudding, too.
Brownies With Pudding
To make pudding brownies, first cream butter and sugar together in a mixing bowl. Add eggs, milk and vanilla extract to the butter-sugar mixture. In a second bowl, combine flour, a box of dry chocolate pudding mix, baking powder and a pinch of salt. Add the dry mixture to the butter-sugar-egg mixture and mix well. Spread the batter into a greased square pan and bake at 350 degrees Fahrenheit for about 25 minutes. Let the brownies cool completely, and then cut into squares. Alternatively, you can make an even quicker version of pudding brownies by combining dry chocolate cake or brownie mix and prepared chocolate pudding in a bowl. Mix thoroughly. Bake in a greased pan at 350 degrees Fahrenheit for about half an hour; let cool before cutting into squares.
Brownie Pudding Pie
First, make a brownie batter either from scratch or from a mix. Grease the pie plate and spread the batter in it. Bake in a 350 F oven or until springy to the touch but not over baked. To make the pie filling, combine two packages of chocolate instant pudding mix with the amount of milk stated in the instant pudding package. Beat the pudding mix and milk until thick; this should take about two minutes. Spread the pudding in the baked brownie shell. Top the pie with whipped cream and chocolate shavings or sprinkles, if desired.
Layered Brownie Pudding Dessert
Make brownie mix or homemade brownie batter and spread in a greased baking pan. Bake the brownies in a 350 F oven until done. Remove and let cool completely. While this is baking, make the cheesecake layer. In a bowl, combine cream cheese, whipped topping and powdered sugar. If you prefer, substitute your favorite cheesecake filling, either homemade or from a package. Layer the cheesecake mixture on top of the brownie batter in the pan. Prepare instant chocolate or vanilla pudding, by mixing dry pudding mix and milk with a beater or whisk. Layer this on top of the cream cheese layer. Top with whipped cream and grated chocolate.
Brownie and Pudding Trifle
Make brownies from a mix or from scratch. Bake them in a greased pan at 350 F, until firm to the touch. Remove from the oven and cool for at least one hour. When cool, cut into small cubes. Put one half of the cubes in a glass bowl; set the other half aside. Make chocolate pudding from dry mix and milk; beat until thick. Layer half the pudding over the brownie cubes. Top with chopped toffee or chocolate caramel bars and whipped topping or cream. Repeat the layers of brownie cubes, pudding, candy and cream. Cover the bowl and let chill for several hours before serving.
References
Writer Bio
Laura Crawley has been writing professionally since 1991. She has written about urban history for "The Hillhurst-Sunnyside Voice." She has also written about New York City history at the Virtual Dime Museum website and about popular culture at Kitchen Retro. Crawley holds a Bachelor of Arts in English from Swarthmore College and a Master of Arts in English from the University of Toronto.
Photo Credits
Jupiterimages/Comstock/Getty Images