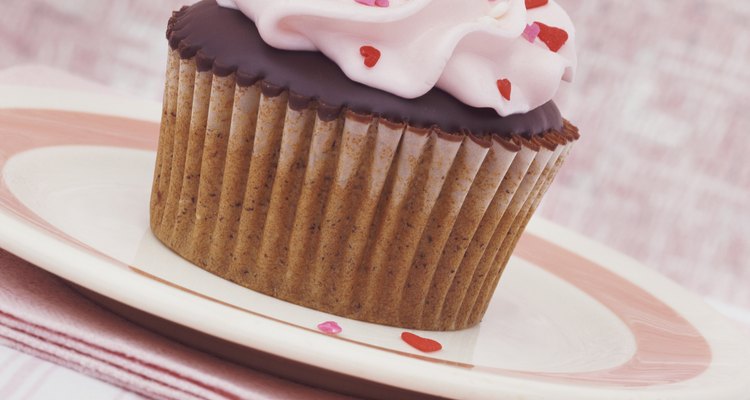 Digital Vision./Photodisc/Getty Images
One way to turn a basic batch of cupcakes into something impressive is to fill each cake with a small amount of whipped cream. Even if a recipe doesn't call for adding a filling, you can still put a dollop of whipped cream inside each cupcake. Use a homemade whipped cream frosting instead of store-bought whipped cream in a can for a cream that's thicker and more stable. Cover any signs that you filled the cupcakes with a layer of frosting on top.
Step 1
Prepare a batch of your cupcakes according to your preferred recipe or boxed cake instructions. Let the cupcakes completely cool before proceeding.
Step 2
Push the apple corer into the center of each cupcake, removing about an inch of cake. Set the little tube of cake that the corer removes aside. If you don't have an apple corer, use a paring knife to cut out a cone shape from the center of each cupcake. Hold onto the cone shape.
Step 3
Scoop out a dollop of the whipped cream frosting with a spoon and place it in the hole inside the cupcake. Use the underside of the spoon to smooth the filling down slightly below the top of the cupcake.
Step 4
Replace the cupcake tube or cone, setting it on top of the cream filling. Press down on the piece gently, so that the tube or cone is even with the top of the cupcake. Cut off part of the tube or cone if necessary to keep the whipped cream frosting from squishing out. Frost the cupcakes as you wish, using a piping bag or a knife to coat the top of each cake.
References
Resources
Tips
You can also use a piping bag and a round tip to add whipped cream to the inside of a cupcake. Fill a piping bag with the frosting, then push the tip down into the middle of the cupcake. Carefully squeeze out a small amount of frosting. The downside of using a piping bag is that you risk splitting the cupcake if you add too much, and it's difficult to see how much you are adding.
Dress up the whipped cream by adding flavor, such as vanilla, mint or chocolate.
Refrigerate the cupcakes after you add the filling if it will be a few hours before you serve them.
Writer Bio
Based in Pennsylvania, Emily Weller has been writing professionally since 2007, when she began writing theater reviews Off-Off Broadway productions. Since then, she has written for TheNest, ModernMom and Rhode Island Home and Design magazine, among others. Weller attended CUNY/Brooklyn college and Temple University.
Photo Credits
Digital Vision./Photodisc/Getty Images