While pumpkin muffins are the perfect treat for fall -- pumpkin is a winter squash -- you can make these muffins year-round using canned pureed pumpkin. This straightforward recipe turns out moist, sweet and flavorful. A delicious breakfast or brunch, you can lighten up these oil-free muffins by using less sugar and can easily make them dairy-free.
Preparation
Heat the oven to 350 degrees F, and line a 12-muffin tin with baking cups (or lightly spray with cooking spray if you don't have muffin cups on hand).
Mix the flour, brown sugar, baking powder, baking soda, salt, cinnamon, nutmeg, allspice and ground ginger in a mixing bowl. In a separate mixing bowl, combine the wet ingredients: eggs, milk and pureed pumpkin.
Stir together the dry ingredients until well combined. Similarly, whisk together the wet ingredients until well combined.
Pour the wet ingredients into the bowl with the dry ingredients.
Stir until a thick batter forms and everything is well combined.
Pour batter into the lined baking cups and fill 3/4 of the way full. Place on the center rack of the oven and bake for 15 to 20 minutes or until muffins test clean when poked in the center.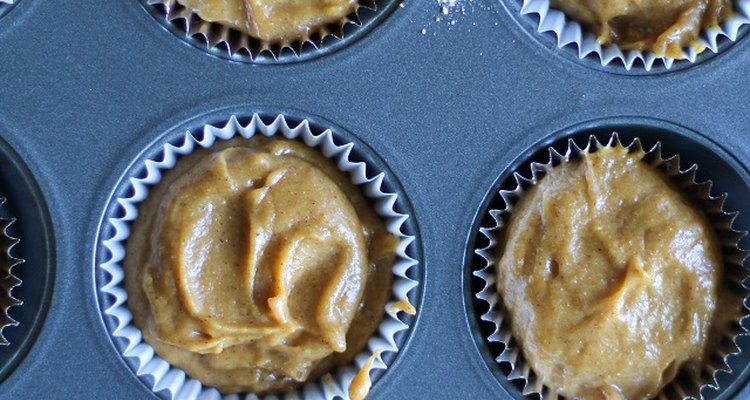 Remove the muffins from the oven, and allow them to cool at least 20 minutes before serving, as they will stick to the muffin cups while they're still hot..
Writer Bio
Julia Mueller is a food blogger at TheRoastedRoot.net. She is the author of two cookbooks: "Delicious Probiotic Drinks" and "Let Them Eat Kale!" When Mueller is not developing recipes or snapping food photos, she enjoys hiking and mountain biking.