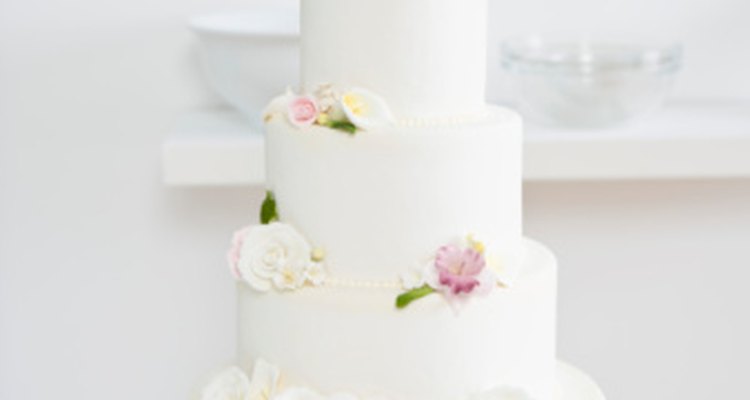 Dynamic Graphics/Creatas/Getty Images
A wedding offers many opportunities to showcase your sense of style. In addition to picking out the location, color scheme, invitations, and type of music, you can add a personal touch to your wedding cake as well. Instead of bouncing from bakery to bakery looking at their designs, create your own design at home with wedding cake designing software.
Design
Whether you can visualize the exact look of your wedding cake or you are unsure of where to start, wedding cake designing software can help. A software program, such as Wedding Cake Design Pro, allows you to choose your shape, number of tiers, style, and design through the use of 3D imaging.
You can create a designer wedding cake style with elegant or unusual decorating techniques, or a classic wedding cake with all the traditional trimmings. When you're done, simply print out your cake creation and head to the local bakery. With such a realistic depiction of your dream wedding cake, it is practically impossible for the bakery to get your cake wrong.
Ease of Use
There is no need to have a degree in art or computers to create your dream wedding cake. Wedding cake designing software is easy to use. You can either instantly download the software onto your computer and start designing right away or place an order and receive a CD. Wedding Cake Design Pro, for example, offers both options. Once you receive the software, start it up and simply choose your wedding cake shape and design. The software provides many different kinds of design options to choose from. Design as many cakes as you wish. Save each cake idea or print and compare designs.
Share
If you're not sure of your cake design or can't decide which one to choose and would like to hear the opinions of your family and friends, simply shoot them an email with your cake design. Some wedding cake design software, such as Wedding Cake Design Pro, allows you to send your cake design as an email.
Websites
The cost of a wedding cake design software, such as Wedding Cake Design Pro, is about $70, with expansion packs ranging between $15 and $40. If budget is a concern or you do not want to spend money on software, there are a few websites that provide wedding cake designs.
Brides.com has Create-a-Cake, a free online tool that allows you to pick a color, decoration style, accents and topper for your cake.
DesignedByTheBride.com provides a similar free online wedding cake decorating tool. The drawback of these two websites is that the graphics, as well as your decoration and cake options, are very limited in comparison to a software program.
References
Writer Bio
Susan Diranian is a writer for various online publications and magazines, specializing in relationships, health, fashion, beauty and fitness. She holds a Bachelor of Arts in English with a concentration in nonfiction writing and editing.
Photo Credits
Dynamic Graphics/Creatas/Getty Images