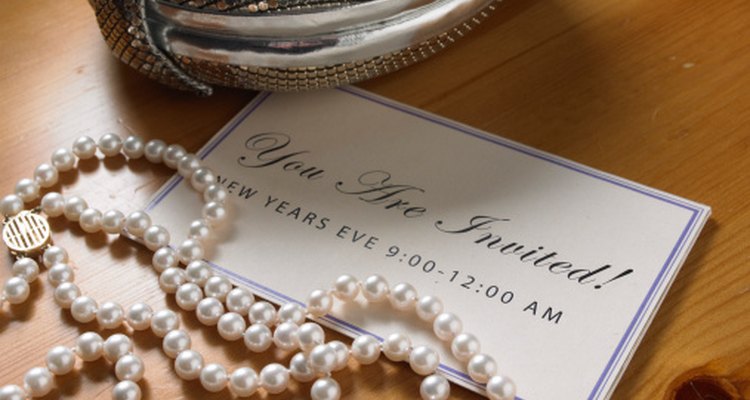 Dick Luria/Photodisc/Getty Images
Making free, printable invitations is an easy way to cut expenses when planning a party, shower or even a wedding. You can find numerous designs to match practically any theme by searching online or just using the software on your computer. The invitations can then be perfectly customized to fit the occasion.
Technical Aspects to Consider
When choosing your invitations, there are several technical aspects to consider. Think about the layout: the invitation can encompass a full page, a half page or a quarter page, depending on the size of your envelopes. To avoid looking tacky, choose a layout size that doesn't require too much folding to get the invitation into the envelope. You should have access to a color printer, as it's the best choice for printing out professional-looking invitations; stock up on color ink as well. Decide whether you'll use regular computer paper or cardstock -- computer paper works fine for casual events such as birthdays, but for nice showers or weddings you may want to acquire some card stock or other nice invitation paper at a business or paper supply store.
Picking the Design
It's important to consider the theme of the event you're planning and pick the invitation design accordingly, complementing the theme with appropriate images, colors and text. A baby shower invitation, for example, would look best with images and colors reflecting the baby's gender or any special circumstances, such as an adoption or multiple births. Pick a wedding invitation design according to the bridesmaids' dresses, the wedding locale or the wedding theme.
Free Invitation Websites
There are a wide variety of free websites that allow you to download and print their invitation templates. Set aside a decent amount of time to browse through all the offerings; this will ensure you end up with invitations you're happy with. Some examples of free invitation websites are Invitationland, Family Shopping Bag and Hoover Web Design; links to these sites can be found in the resources section below. Keep in mind that some free websites do require you to make an account.
Using Computer Software
Use your computer's existing software for an additional way to make free invitations. Microsoft Publisher and Powerpoint have an excellent variety of invitation options. Microsoft Word has template and border options for designing invitations. There are also many invitation programs available for purchase, such as Printing Press and Invitation Architect.
Customizing Your Invitations
If you choose an invitation design that lets you personalize the invitation, it's important to include essential details of the event. These include, but aren't limited to, the purpose of the invitation, the name(s) of the guest(s) of honor, the name of the host, the date and time of the event, the location of the event and, if necessary, a name, phone number and deadline to RSVP. To further personalize the invite, add a quote, a verse or words of wisdom; special instructions relative to the event should also be added (if guests are required to bring something or dress a certain way, for example).
References
Writer Bio
Based in Royal Oak, Mich., Christine Wheatley has been writing professionally since 2009. She contributes to several websites, specializing in articles about fitness, diet and parenting. Wheatley has a Bachelor of Arts in art from Calvin College.
Photo Credits
Dick Luria/Photodisc/Getty Images