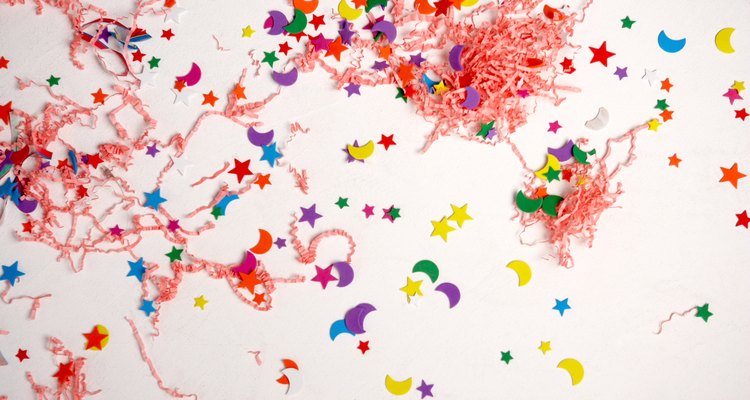 Jupiterimages/Photos.com/Getty Images
Planning a wedding celebration or event that includes confetti requires modern alternatives, since many churches and venues no longer allow paper confetti, the traditional rice or even fresh rose petals. You can make your own environmentally friendly, biodegradable confetti at home with water-soluble wafer paper or with a few ingredients and a home oven. You can even make custom colored confetti to match the decor at your wedding or event.
Make Edible Paper Confetti
Purchase sheets of wafer paper, also known as rice paper, from a cake decorating supply store.
Mix luster dust with a few drops of lemon extract. Brush the luster dust mixture all over the surface of the wafer paper. You can use one solid color or a mix of colors.
Punch holes in the wafer paper using a decorative craft paper punch. You can get paper punches, which come in many shapes, from scrapbooking supply stores.
Place the punched wafer confetti in a dry covered container until you are ready to use it.
Water-Soluble Confetti
Mix equal parts gum arabic, warm water and powdered food coloring (available from a cake decorating supply store) in a bowl to make a thick paste.
Spread the paste thinly with a palette knife on a nonstick silicone baking sheet or a cookie sheet.
Bake the paste in a warm oven for 10 minutes until it dries. Remove the cookie sheet from the oven, and allow it to cool.
Peel the dried colored paste in a sheet off the baking sheet or cookie sheet. Then crush or press the paste through a metal sieve to create the confetti.
Repeat this process until you have enough confetti for the number of guests at your wedding or event.
References
Writer Bio
Roxanne McHenry has written online marketing articles and courses for Web publications including Affiliate Classroom and Web Pro News since 2002. McHenry has a B.A. in Japanese language and literature, and lived and worked in Japan as a teacher and technical translator.
Photo Credits
Jupiterimages/Photos.com/Getty Images