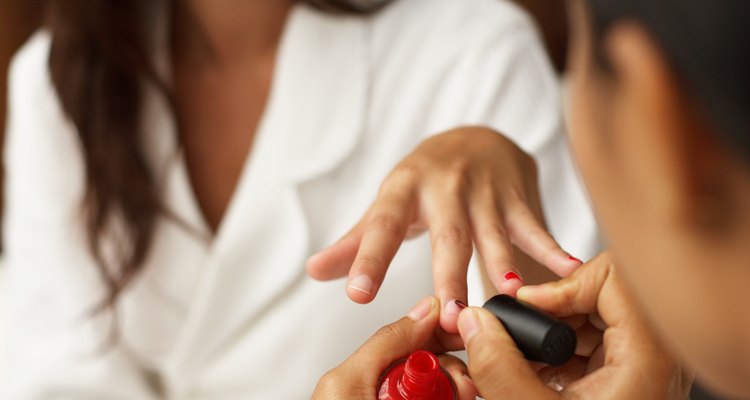 Pinnacle Pictures/Photodisc/Getty Images
Nail polish comes in a dazzling array of colors, but sometimes it's impossible to find the shade that's right for you. If you're bored of your same-old nail-polish collection, try creating your own custom colors. Like an artist mixes paint, you can blend nail-polish colors to make bright hues, soft pastels, eye-popping neon tones and metallic shades. With so many brands and colors of polish available, your options are almost endless.
Step 1
Wash out an empty nail-polish bottle or shot glass.
Step 2
Pour your base color into the bottle. This is the main color of your custom nail polish. Use about one-quarter or one-half of a bottle for the base color.
Step 3
Add a secondary color one drop at a time until the polish is the color you want. For example, to make a shiny color, add a few drops of gold or silver polish.
Step 4
Put the lid on the bottle and shake well to blend the colors together. If you mixed the polish in a glass, use a toothpick or cotton swab to combine the colors.
References
Resources
Writer Bio
Melissa King began writing in 2001. She spent three years writing for her local newspaper, "The Colt," writing editorials, news stories, product reviews and entertainment pieces. She is also the owner and operator of Howbert Freelance Writing. King holds an Associate of Arts in communications from Tarrant County College.
Photo Credits
Pinnacle Pictures/Photodisc/Getty Images