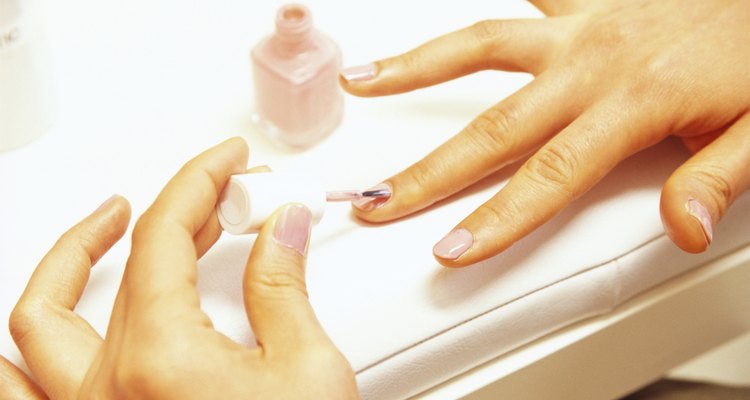 Creatas/Creatas/Getty Images
Nail stickers can dress up your fingernails and toenails, but if the right technique is not used, these decorations could peel off without much warning. If you want to attach nail stickers at home, you need a few supplies and a little time. You should never apply nail stickers to bare nails -- the nails need some preparation, and scraping off the stickers later could damage them. By polishing the nails first, you give the stickers something to safely adhere to and make the process to remove the stickers easier.
Step 1
Prepare your nails for stickers by manicuring them and applying a coat of varnish. You can wear clear polish or choose a color that would complement your nail-sticker design.
Step 2
Allow the nails to dry. Touch the nails to make sure that the paint is cured.
Step 3
Pull the stickers off the backing sheet using a pair of tweezers. Position the sticker over the painted nail.
Step 4
Press the nail sticker on, starting at the cuticle, pressing forward to the nail. The sticker should be flat and smooth with no creases or bubbles.
Step 5
Pat down on the sticker using the slanted, flat edge of an orange stick. Hold the sticker down for a few seconds, long enough to allow the sticker to adhere to the varnish.
Step 6
Apply a clear topcoat to the nail stickers to seal them in place. Allow the polish to dry completely before using your fingers.
References
Tips
Some beauty-supply stores sell nail-art sealer. You can use this in place of a clear nail polish.
Trim away any excess sticker edges for a smooth look.
Warnings
Take caution if you are allergic to latex, as nail stickers may contain the substance.
Writer Bio
Mimi Bullock's writing reflects her love of traveling the back roads of small towns and sampling the local cuisine. As a regular feature writer for "Southern Hospitality Traveler" and journalist for "Beachin' Magazine," she gets to experience the rich heritage of the southern culture. She is also a licensed cosmetologist who has her own skin care line.
Photo Credits
Creatas/Creatas/Getty Images