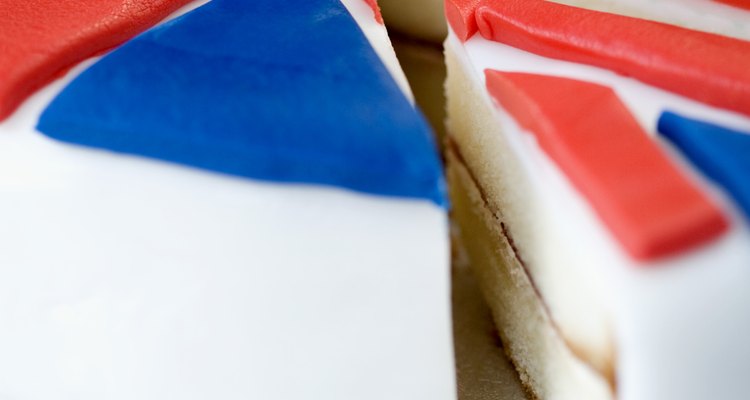 Jupiterimages/Polka Dot/Getty Images
Rolled fondants give cakes a flawless, satin-like finish. Store-bought fondant typically comes in solid white, which may not be the color you want for your baked creation. You may buy pretinted fondant, but it usually costs more than the plain version. Save money and get more out of a single bucket of rolled fondant by tinting it yourself.
Coloring
Regular, water-based food coloring erodes the integrity of your fondant, so use a decorator-grade gel or powder color to tint the fondant. These come in a variety of shades, ranging from pastel to neon. Purchase food coloring gel at a cake decorating store or craft store.
Tinting
Start by removing the amount of fondant you need to make a decoration or to cover a cake. Knead the fondant until it's pliable and roll it into a ball. Add a small amount of color using a toothpick or dot the coloring if using a squeeze bottle. Fold the fondant inward and knead the ball until the color is even throughout. Add more color and repeat the process until you arrive at the color you need. Your fondant will be very soft from the warmth of your hands and excess kneading. Allow it to rest before rolling and placing it on a cake.
Lightening
If you add too much color or your fondant is too bright, lighten the fondant by incorporating more white fondant. Knead a small ball of white fondant and incorporate it into the ball of tinted fondant. Knead it until the color is blended. Continue to add more white fondant until you've reached the desired color.
Painting
You may tint fondant that is already rolled and placed on a cake or cut in shapes. Paint the fondant with a gel or powdered food-grade coloring, food-grade paintbrush and a small amount of alcohol. Use only clear alcohols, such as vodka or rum, and mix a small amount with the color. Paint in light, even strokes across the fondant's surface. Allow it to dry and repeat if necessary until you arrive at the color desired. The alcohol evaporates and your color might have a slight sheen to it, but it will not alter the taste of your fondant or cake.
Considerations
Tinting fondant might stain the skin of your hands. Wear food-grade gloves, especially while making deep colors such as red, black or dark navy. Deep colors may also stain your teeth while eating the fondant, but this will fade after brushing. Sunlight and heavy interior lighting can alter the color of your tinted fondant, making it look brighter or faded. Keep your rolled fondant in a cool, dry area, out of direct sunlight.
References
The Contemporary Cake Decorating Bible; Lindy Smith
Resources
Writer Bio
Shailynn Krow began writing professionally in 2002. She has contributed articles on food, weddings, travel, human resources/management and parenting to numerous online and offline publications. Krow holds a Bachelor of Science in psychology from the University of California, Los Angeles and an Associate of Science in pastry arts from the International Culinary Institute of America.
Photo Credits
Jupiterimages/Polka Dot/Getty Images