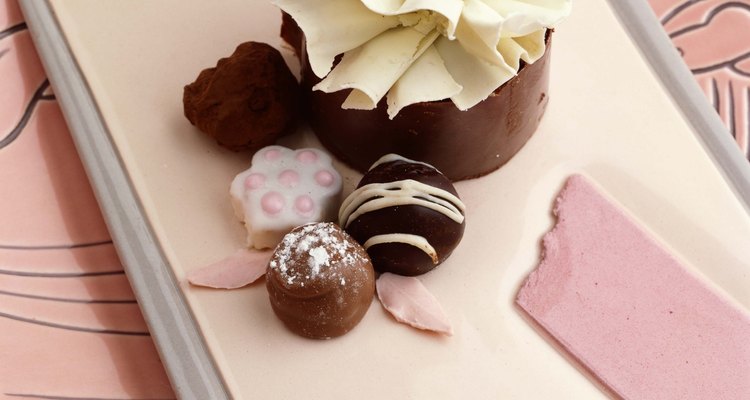 Jupiterimages/Stockbyte/Getty Images
When creating candies, cakes and pastries, adding a splash of color will make any dessert more artistic and eye-catching. Because of the temperamental nature of chocolate, using the right kind of coloring is essential. Red is one of the more challenging colors, as mixing the dye with white chocolate can turn the mixture pink. Dying white chocolate red might seem difficult, but following a few rules will make the process painless.
Melting the Chocolate
Because even a small amount of water coming into contact with melted chocolate can cause the chocolate to seize, make sure you start with clean, dry equipment and utensils. Melt the chocolate in a bowl in the microwave, in a double boiler or in an oven-proof bowl in an oven set to 110 degrees Fahrenheit or the lowest setting possible. Stir the chocolate to make sure it is completely melted and smooth before adding any colors to it.
Dying the Chocolate
Dying white chocolate red can be tricky without an airbrush. Because red food color can turn white chocolate pink, be sure to purchase a dye that is slightly darker than the red you want. Use powder or oil-based dyes only. Water-based dyes will cause the chocolate to seize. If you are using an oil-based dye, remember that too much of it can cause the chocolate to taste bitter. Also, oil-based dyes are better for fillings and candies while powders are better for chocolate coatings and outer decorations. Add a small amount of the dye at a time, stirring and gradually adding more dye until you have the color you want.
References
Decorations, Borders and Letters, Marzipan, and Modern Desserts; Roland Bilheus, Alain Escoffier, Pierre Michalet
Couture Chocolate: A Masterclass in Chocolate; William Curley
Squires Kitchen's Guide to Working with Chocolate: Easy Techniques for Impressive Results; Mark Tilling
Writer Bio
Lize Brittin lives in Boulder, Colo. A writer since 2001, she is the author of the book "Training on Empty." Brittin has also written for publications such as Competitor, Active Cities, Boulder Magazine and Thrill. She holds a Bachelor of Arts in psychology from the University Of Colorado.
Photo Credits
Jupiterimages/Stockbyte/Getty Images