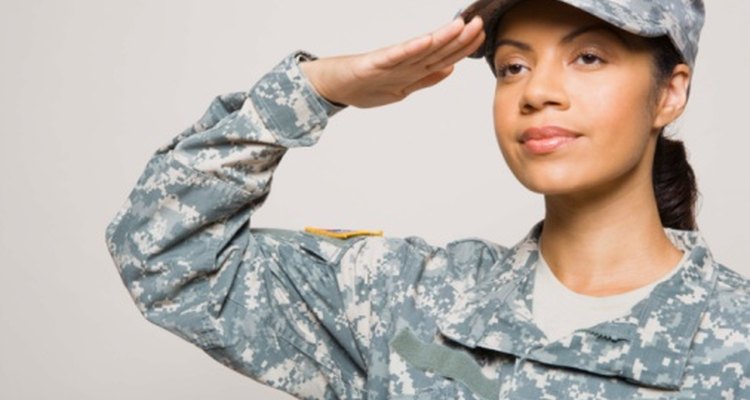 Jupiterimages/Creatas/Getty Images
A camouflage design on a centerpiece cake adds to the decor at a military-themed birthday or graduation party. No matter what your party colors are -- traditional green and brown camouflage or more girl-centric camouflage colors of pink and brown -- you can easily create the perfect look for your cake.
Begin by baking and cooling your cake layers. Fill the layers with your favorite filling, then frost with a thin layer of buttercream to contain crumbs, help the fondant stick and give additional flavor to your cake.
Divide your fondant into two pieces. The larger piece should be about two-thirds of your total fondant. Knead military-green food coloring into the larger piece of fondant. Cover with a clean dishtowel or plastic wrap and set aside.
Divide the smaller piece into two or three equal parts, depending on whether you want to add two or three more colors to your camouflage pattern. Knead your desired food colorings into each piece of fondant. For classic camouflage, use flesh color, forest green and black or very dark green. Pink camouflage includes flesh color, light pink and dark pink. Cover the fondant.
Break the smaller fondant pieces into about 20 total pieces. Each piece should measure about two tablespoons. Form the pieces into flat, irregular polygon shapes. This helps create the random pattern of the camouflage.
Sprinkle a generous amount of powdered sugar on your work surface. Roll the large piece of military-green fondant into a circle or square large enough to cover two-thirds of the top and sides of your cake. Scatter the small pieces over the fondant in a random pattern. Roll the pieces into the fondant until the layers of fondant blend seamlessly and the shape is large enough to fit over your cake.
Lift the fondant carefully and drape it over your cake. Smooth the fondant across the top and down the sides of your cake. Trim excess fondant around the base. For a clean look at the base, add a military-green fondant ribbon or buttercream piping.
Resources
Tips
Work quickly with your fondant to avoid it drying out.
Use paste or gel colorings for a wider variety and richer colors.
Consult the chart on your box of premade fondant, if using, to determine how much fondant you will need to cover the size cake you've baked.
Writer Bio
Nadia Nygaard has been writing and editing since 2005. She is published in "Farm and Ranch Living" and has edited projects as diverse as grant proposals, medical dissertations and tenant law handbooks. She is a graduate of the University of Washington with a Bachelor of Arts in English and women's studies.
Photo Credits
Jupiterimages/Creatas/Getty Images