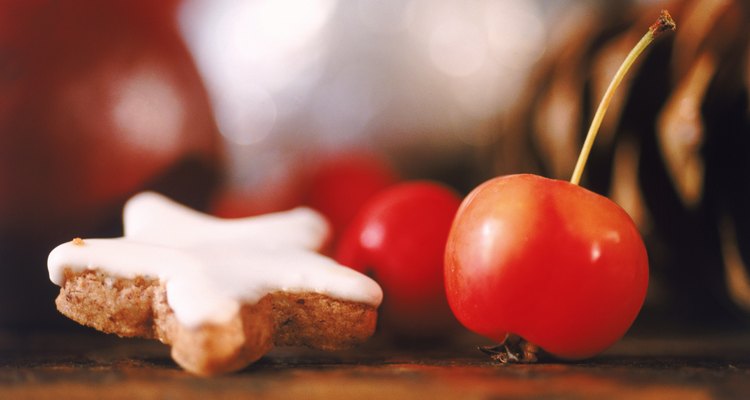 John Foxx/Stockbyte/Getty Images
Egg white-based royal icing for cookies requires cream of tartar to help the beaten whites hold their shape. The finished icing is shiny when first applied to the cookies, but it develops more of a matte finish as it dries. While the icing is by no means dull when dry, it's expected not to retain the same sheen as when wet. A stiffer royal icing is needed to pipe outlines onto cookies, while a thinner consistency is used to flood the outline with your choice of color.
Add powdered sugar, egg whites and cream of tartar to a chilled mixing bowl; use 3 egg whites and 1/2 teaspoon of cream of tartar for every 4 cups of powdered sugar.
Beat the ingredients with an electric mixture for about 10 minutes or until peaks form.
Divide the finished royal icing into separate bowls for each desired color. Mix gel food coloring with the royal icing mixture to achieve the desired colors. Do not use liquid food coloring because this thins out the icing. If you need to thin the icing to make royal icing for flooding the cookie outlines, add lemon juice or water about 1/4 teaspoon at a time.
References
Tips
Egg-white royal icing is best when used right away, but if you have leftovers, you can store it in a covered container in the refrigerator for up to one week.
Warnings
Raw egg whites can carry salmonella, so it's best to consume cookies with this type of icing in moderation or to use the cookies purely for decoration. Meringue powder can be used instead of egg whites; in this instance cream of tartar isn't needed.
Writer Bio
A former cake decorator and competitive horticulturist, Amelia Allonsy is most at home in the kitchen or with her hands in the dirt. She received her Bachelor's degree from West Virginia University. Her work has been published in the San Francisco Chronicle and on other websites.
Photo Credits
John Foxx/Stockbyte/Getty Images