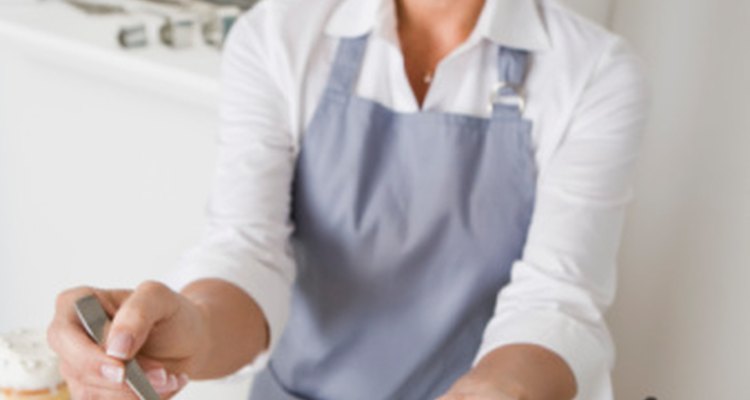 Dynamic Graphics/Creatas/Getty Images
Cream cheese icing is rich and sweet and holds up well against bold cake flavors, like red velvet, chocolate or spice cake. Cream cheese icing can be used as an accent for your cake, a filling or decorative piping or as the only icing on your cake. The consistency of cream cheese icing is very similar to buttercream frosting and can be applied using the same tools.
Recipe
Practice creating your cream cheese icing ahead of time and experiment with different recipes, especially if you have never made it before. The basic ingredients you will need are softened cream cheese, confectioner's sugar and vanilla flavoring. Cream cheese icing will taste tangier and less sweet than buttercream icing. Before you begin making your icing, make sure your cream cheese is at room temperature and soft to the touch. If you do not have the time or have forgotten to take it out ahead of time, you can also microwave it for about 10 seconds to soften. If your cream cheese is too cold when you begin, your icing will be lumpy and difficult to spread, resulting in an unpolished looking cake. Make sure to use regular cream cheese and butter, without making substitutions for lighter alternatives. If you make substitutions, your icing will not be as firm and will not set as nicely for icing your cake.
Chill
Chill your cream cheese icing once you have developed a smooth consistency. Do not place in the freezer. By chilling the icing, you will be able to pipe decorations more easily and the icing will stay where you want it. Cakes usually require a thin layer of icing, called a crumb coating, as a base before applying icing to create a finished product. You can crumb coat the tiers with the icing before it is chilled if you prefer, because the crumb coat does not have to look pretty and is only used to help create a smooth icing layer later.
Stability
Cream cheese icing, like buttercream, is a soft frosting. On a three tier cake, stability will be a concern. Each tier is constructed from three layers of cake with cream cheese icing holding the layers together and crumb coat the outside of the layers to form a sold tier. Once you have assembled each tier, you should chill the cake to firm the icing. Use other stabilizers, such as wooden dowels placed through all three tiers, to give added support. Place cardboard boards between each layer to help support and keep the cake straight.
Finishing
Cream cheese icing is off-white or ivory in color, depending on the amount of flavoring you used in the recipe. If you want a pure white finished cake, you will want to use a different frosting for the outside of the cake. Use an offset spatula to smooth the icing for a finished appearance. Cream cheese icing is thicker and less fluffy than buttercream, making it sturdier to pipe and decorate with. If you find you are not creating a smooth enough finish with cream cheese icing you may want to use buttercream and finish decorating with cream cheese. Or you could choose to use a crusting cream cheese icing which is more smooth and glossy for icing and the normal cream cheese frosting for decorating.
References
Writer Bio
Nikki Van De Walle began writing in 2005. She has written articles for Humber College's "Daily Planet" and Guelph-Humber's "Radix." She graduated from the University of Guelph-Humber in 2010 with honors, receiving her Honors Bachelor of Applied Arts in media studies as well as her Diploma in Journalism.
Photo Credits
Dynamic Graphics/Creatas/Getty Images