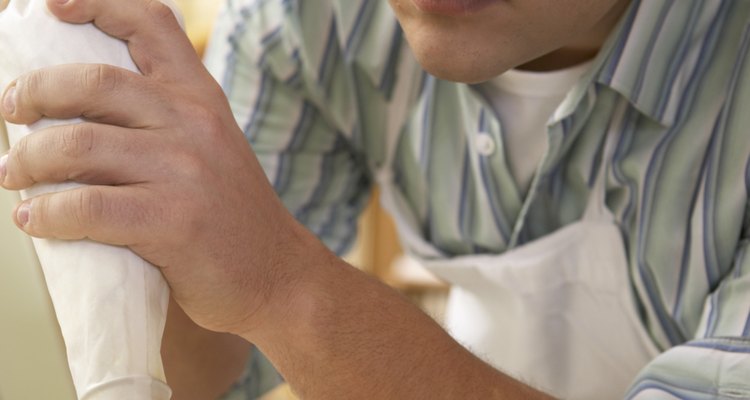 RAYES/Photodisc/Getty Images
Light, fluffy, melt-in-your-mouth whipped cream makes a delicious topping for angelic desserts. Unfortunately, it can also pose a challenge when you want cute piping designs that last throughout an afternoon. It may seem almost impossible to have whipped cream hold up to the job of decorating a cake, but with some simple modifications you can create drool-worthy whipped cream that holds up to your demands.
Step 1
Mix the gelatin with the water in saucepan and let it sit for five minutes off the heat.
Step 2
Heat the pan of gelatin on medium, stirring constantly until liquidy and dissolved. Improperly dissolved gelatin can create granules in your final whipped cream. Remove from heat and set aside. Alternatively, you can do this step in a microwave using a small microwaveable bowl. Microwave gelatin-water mixture for 5 to 10 seconds or until liquified.
Step 3
Pour the cold whipping cream into a medium bowl or the bowl of the stand mixer. Mix on medium speed until it begins to thicken.
Step 4
Add sugar and continue whipping on medium speed.
Step 5
Add flavoring, continuing to whip as it thickens. Slow down the speed if the mixture is beginning to stiffen beyond soft peaks.
Step 6
Add liquified gelatin mixture, whipping all the way through until medium stiff peaks form. Medium stiff peaks, or firm peaks, are achieved when you lift the beaters out of the mixture and the peaks hold but the tips droop back down instead of standing tall. Do not over whip. Over whipped cream will separate and not be usable.
Step 7
Using a spatula knife, spread two-thirds of the icing around the sides and top of the cake. For texture around the sides, use a toothed decorating comb. Reserve the remaining third for piping.
Step 8
Spoon the reserved cream into the piping bag with a tip of your choice. Stick with medium to large smooth or star tips. Stabilized whipped cream will hold up well to heat and time, but it still isn't a very stiff icing for elaborate details. Pipe around the base and top edge of the cake, taking advantage of the lightness of the whipped cream while creating mounds and peaks.
Step 9
Let the finished cake set in a cool place or in the refrigerator until set, approximately 30 minutes. Your set cake will hold up in the refrigerator for a couple of days, or at room temperature for many hours.
References
Tips
For best results, make sure the whipping cream is very cold prior to whipping.
The proportions here are enough to ice and decorate a two-layer 8-inch round cake, but not fill it.
There are other methods available for stabilizing whipping cream without gelatin. Visit a specialty store or the baking aisle of a well stocked supermarket to find vegetarian whipped cream stabilizers. The method is slightly different, one packet of powder is added for each cup of cream prior to whipping.
Warnings
Whipped cream stabilized using gelatin must be used within a half hour so it doesn't set up in the bowl.
Whipped cream is a dairy product and a perishable food item, so refrigerate your decorated cake as much as possible before serving.
Writer Bio
Kimberly Blough is a food junkie residing in San Diego who began writing professionally in 2013. She obtained her Bachelor of Arts in geography from San Diego State University in 2003 and has taught culinary classes in various capacities since 2005. She teaches cheesemaking workshops and lives on a small hobby farm where she turns the food they grow into delectable dishes.
Photo Credits
RAYES/Photodisc/Getty Images