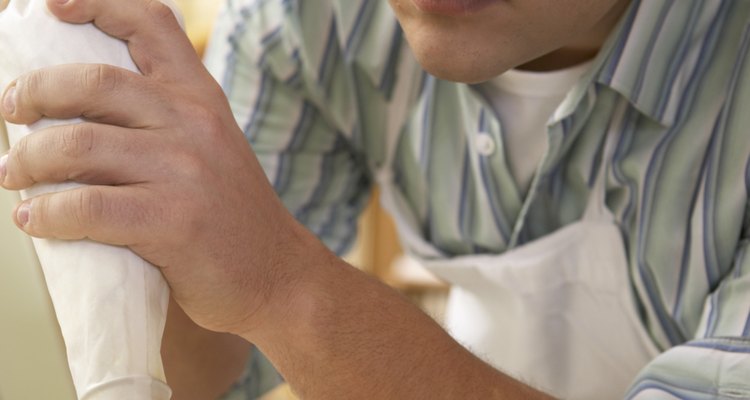 RAYES/Photodisc/Getty Images
Whipped frosting pairs deliciously with fresh fruit accents on your cakes or cupcakes. Although gelatin stabilizes whipped frosting, preventing it from melting, separating and running, it can leave unsightly lumps or strings in the frosting, if not properly blended. Create longer-lasting whipped frosting with common cake decorating ingredients without the fuss of gelatin. You can decorate with stabilized whipped frosting the day before presentation of the cake, just as you would with other types of frosting, without fear of changing consistency.
Step 1
Place your mixing bowl and beaters in the freezer 10 to 15 minutes before you plan to make the frosting. Leave your cream in the refrigerator during this time so that it is very cold. Cream whips easiest when the cream, bowl and beaters are well chilled.
Step 2
Pour the cream into the bowl, adding flavorings such as vanilla or other extracts. Add 2 to 3 tablespoons of powdered sugar per cup of heavy cream, to sweeten the whipped frosting. Add more sugar for sweeter frosting, if desired, sweetening to taste. Sugar also helps to stabilize the whipped cream, because it contains cornstarch. Use 1 tablespoon of cornstarch per cup of cream, to replace powdered sugar, if desired.
Step 3
Add 2 tablespoons of piping gel for every cup of heavy cream. Piping gel is a colorless and flavorless ingredient, used frequently in cake decorating.
Step 4
Whip the cream until it forms stiff peaks. When you stop the mixer, remove the beaters and turn them upside down. The cream should form a stiff point that doesn't droop or move, once formed. Do not over beat the cream, otherwise separation will occur, ruining your frosting.
Step 5
Decorate your cake or cupcakes immediately, and refrigerate until you're ready to serve them.
References
Tips
Find piping gel in your local craft or big box store, in the cake decorating section.
Sift your powdered sugar or cornstarch to prevent lumps.
Writer Bio
Amber Canaan has a medical background as a registered nurse in labor and delivery and pediatric oncology. She began her writing career in 2005, focusing on pregnancy and health. Canaan has a degree in science from the Cabarrus College of Health Sciences and owns her own wellness consulting business.
Photo Credits
RAYES/Photodisc/Getty Images