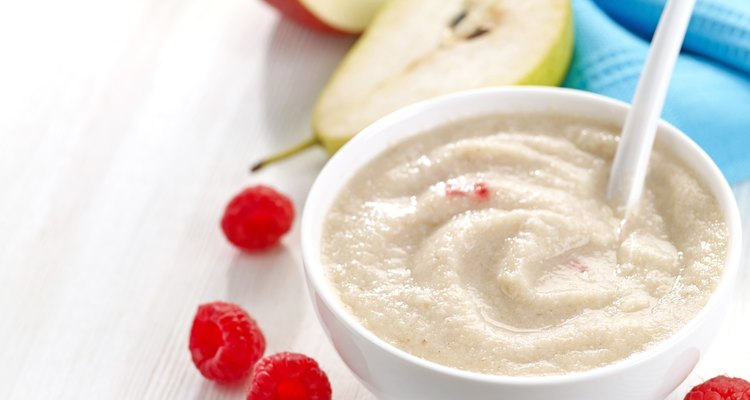 Magone/iStock/Getty Images
Cream of Wheat is a cereal made from hard wheat with the bran and germ removed, then ground to a coarse texture. Cooked the same way oatmeal is prepared, Cream of Wheat is high in carbohydrates and low in fats.
Contents
Cream of Wheat contains around 250 g per 1 cup serving. According to the U.S. Department of Agriculture, 23 g of this amount consists of carbohydrates, 3 g of proteins and less than 1 g of fats. The remainder is other nutrients, indigestible matter and water.
Calories
According to the USDA, a 1 cup serving of Cream of Wheat contains 110 calories. Carbohydrates provide 92 calories within the serving while proteins deliver 12 calories and fats offer 6 calories per serving.
Caloric Value
A 1 cup serving of cooked Cream of Wheat provides just over 5 percent of the recommended caloric intake per day for the average adult. This percentage is calculated using a daily 2,000 calorie diet.
Nutrients
Cream of Wheat also contains some important vitamins, including vitamin B-6, folate, niacin, thiamin, riboflavin and pantothenic acid. The cereal also provides several dietary minerals, such as iron, calcium, selenium, phosphorus, magnesium, copper and zinc.
Writer Bio
In Jacksonville, Fla., Frank Whittemore is a content strategist with over a decade of experience as a hospital corpsman in the U.S. Navy and a licensed paramedic. He has over 15 years experience writing for several Fortune 500 companies. Whittemore writes on topics in medicine, nature, science, technology, the arts, cuisine, travel and sports.
Photo Credits
Magone/iStock/Getty Images