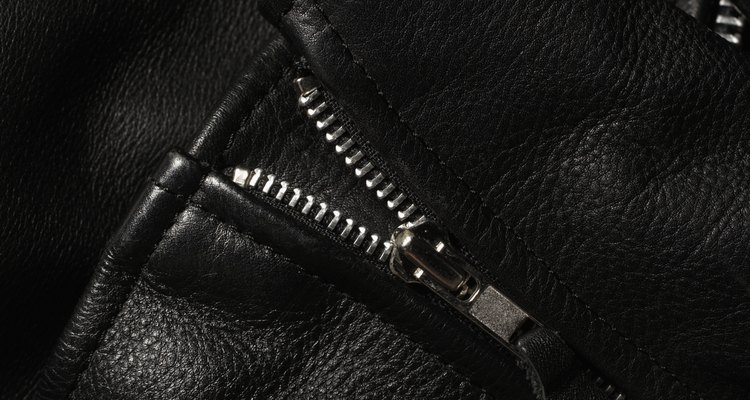 Thomas Northcut/Photodisc/Getty Images
Leather garments have been around for centuries, but it wasn't until the 20th century that leather jackets became a permanent and arguably iconic fashion statement. When James Dean donned a motorcycle jacket for his role in the 1955 film, "Rebel Without a Cause," the look became an instant and lasting image for cool rebellion. While leather jackets are likely to remain a permanent fixture in America's fashion scene, your own neglected leather is less likely to stand the test of time if you leave it to languish in storage. You can salvage your old leather jacket in just a few hours time with a simple leather dye treatment.
Step 1
Choose a workspace that is well ventilated. Open a window or run a fan to ensure that chemical vapors do not linger in the space. Cover the workspace with newspapers or a plastic sheet to avoid staining your floors.
Step 2
Cover your hands with rubber gloves to protect your skin from chemical exposure. Wipe the entire surface of the leather jacket with a clean, damp cloth to rid it of loose dirt and dust particles. Allow the jacket to dry for five to 10 minutes.
Step 3
Dampen a clean, dry cloth with leather stripper or deglazer and vigorously scrub all the leather surfaces to remove residual dirt, oil and leather finish. Replace the cloth as needed to prevent smearing any dirt and oils as you clean. Allow the jacket to rest for five minutes or until it is completely dry before proceeding with the dye process.
Step 4
Flip the sealed bottle of leather dye upside down and shake it rapidly for two to three minutes to ensure that the pigment is well mixed before you apply it to the jacket.
Step 5
Dip a sponge brush or dauber into the container of leather dye so that it is immersed or squeeze a generous amount of dye onto the application tool. Brush the entire leather surface of the jacket with smooth, even motions until it is completely covered with a single coat of dye. Allow the jacket to rest for 30 minutes to one hour, or until it is completely dry.
Step 6
Wipe the jacket with a clean dry cloth to test for dryness; if the dye is still wet, let it dry for an additional 30 minutes. Apply a second even coat of dye to the jacket as before, and then allow it dry for 30 minutes to one hour. Continue to apply the dye until your desired coloration is achieved, but keep in mind that it must dry between each application.
Step 7
Apply a coat of leather finish with a cloth or spray applicator to prevent color transfer. Wipe all the leather surfaces gently with a sponge or cloth to evenly distribute the finish. Allow the jacket to dry for one hour before storing it in a cool, dry space.
References
Warnings
Consult the instruction, hazards and warning labels printed on container of toxic chemicals prior to use.
Writer Bio
Chance Henson earned a B.A. in English literature and a writing minor from Lamar University. While interning at the "University Press" newspaper and "UP Beat" magazine he received an award for news feature writing from the Texas Intercollegiate Press Association. Henson went on to serve as content editor for "CUSH Magazine," eventually leaving to pursue the development of an online secular humanist educational publication.
Photo Credits
Thomas Northcut/Photodisc/Getty Images