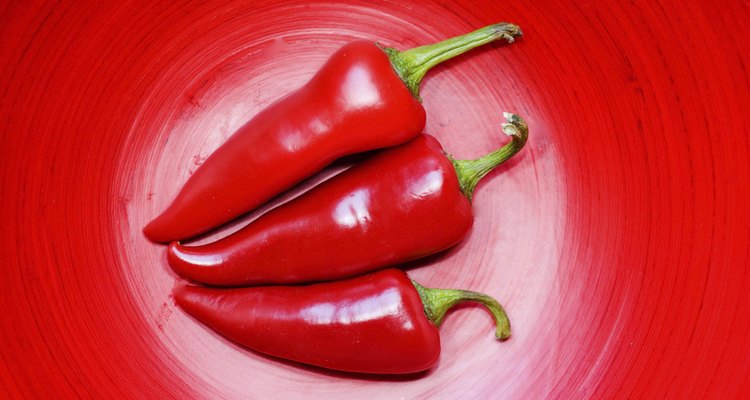 Purestock/Purestock/Getty Images
Prahok, or fermented fish paste, is a standard ingredient in Cambodian cuisine. It has a distinctive, strong flavor, so no matter how you use prahok, a little goes a long way. Prahok sauce, using prahok as the sole ingredient or in combination with a variety of ingredients, is a popular cooking ingredient, a dipping sauce and a common dinner-table condiment.
Preheat a dry saucepan over medium high heat for one to two minutes.
Add the olive oil, minced garlic and lemon grass. Stir-fry for one minute, until the minced garlic turns a light golden brown.
Pour in 1 cup water, and bring it to a full boil.
Stir in the fish paste. Continue to stir until the paste dissolves, then remove the saucepan from your stove.
Stir in the lime juice, sugar and chili paste.
Pour the prahok sauce into a serving bowl, and top it with the red chili peppers and peanuts.
References
Tips
After cooking, taste the sauce and adjust its flavor as you'd like, adding paste to make the flavor stronger and additional lime juice or sugar to counter a "too strong" fish flavor.
To make prahok sauce to use as an ingredient in other dishes rather than as a dipping sauce, eliminate all additional ingredients. Add up to 1/2 cup of fish paste to 1 1/4 cups of boiling water, then reduce your stove heat to medium and let the paste simmer for about 10 minutes. Strain the liquid through a wire sieve, pour into a container, and either use it immediately or store it in your refrigerator for up to two weeks.
Some of the ingredients for prahok sauce may require a trip to an Asian specialty store.
Writer Bio
Based in Green Bay, Wisc., Jackie Lohrey has been writing professionally since 2009. In addition to writing web content and training manuals for small business clients and nonprofit organizations, including ERA Realtors and the Bay Area Humane Society, Lohrey also works as a finance data analyst for a global business outsourcing company.
Photo Credits
Purestock/Purestock/Getty Images