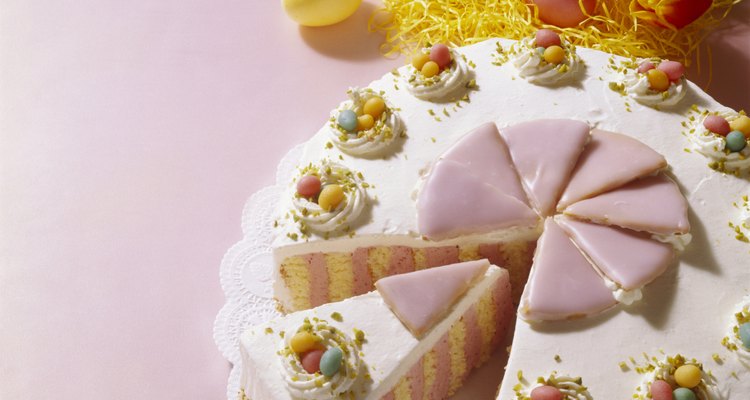 Eising/Photodisc/Getty Images
Marzipan is the pastry chef's equivalent of a child's modeling clay. It's a sweet, pliable paste made from ground almonds and sugar, kneaded together until it reaches the correct consistency. Once prepared, you can keep it in the refrigerator for months, as long as it's tightly wrapped. It can be used to sculpt edible decorations or as a covering for cakes, and usually requires some drying time after it's applied.
Marzipan Basics
Marzipan is simple to make at home, especially if you have a stand mixer. A basic recipe is made from equal parts powdered sugar and almond paste, with a small amount of glucose or corn syrup added to give it a workable texture. Some versions include other ingredients as stabilizers or flavorings. Marzipan shouldn't be overworked, because too much warmth or kneading will cause the almond oil to come to the surface. You should always work marzipan on a scrupulously clean surface, with perfectly clean hands, because it's easily discolored by any traces of dirt on your hands or workspace.
Marzipan on Baked Goods
Marzipan is often used as a covering for baked goods, a sort of rollable icing. Use your regular rolling pin, but dust the pin and work surface with powdered sugar instead of flour. If you're using marzipan on cakes or cookies, roll it to a thickness of approximately 1/8 inch. Cut it to size, and drape it over your baked goods. Press it lightly to the surface, and rub any cut edges or folds with your fingers until they're no longer visible. Marzipan will be dry to the touch within an hour or two, so you can serve your cookies or slice your cake without causing sticky fingers.
Marzipan Under Icing
Christmas cakes and wedding cakes often use marzipan to provide a smooth under-coat for icing or fondant, and to add a characteristically rich almond flavor to the finished cake. It's especially useful in this role because its high almond oil content prevents dark-colored cakes from discoloring the final layer of icing. If you're using marzipan underneath fondant, which has a similar texture, it should dry at least overnight or for one or two days. If you're finishing the cake with buttercream, it will adhere better with at least two days' drying time, and up seven days is even better.
Sculptured Marzipan
Marzipan is also used to make sculptured items. Some, ranging from realistic flowers to cartoon animals, are used as cake decorations. Others are highly artistic edible sculptures, such as the lifelike marzipan fruits produced by many European pastry chefs. Let the sculptures dry in a cool place for at least a week. Large pieces will crack if they dry too quickly, so cover them loosely with paper if you're in a dry climate. Some commercial brands of marzipan have additives that help them dry more quickly, so if you're not using homemade marzipan, check the instructions on your package or on the manufacturer's website.
References
The Professional Pastry Chef; Bo Friberg
Writer Bio
Fred Decker is a trained chef and prolific freelance writer. In previous careers, he sold insurance and mutual funds, and was a longtime retailer. He was educated at Memorial University of Newfoundland and the Northern Alberta Institute of Technology. His articles have appeared on numerous home and garden sites including GoneOutdoors, TheNest and eHow.
Photo Credits
Eising/Photodisc/Getty Images