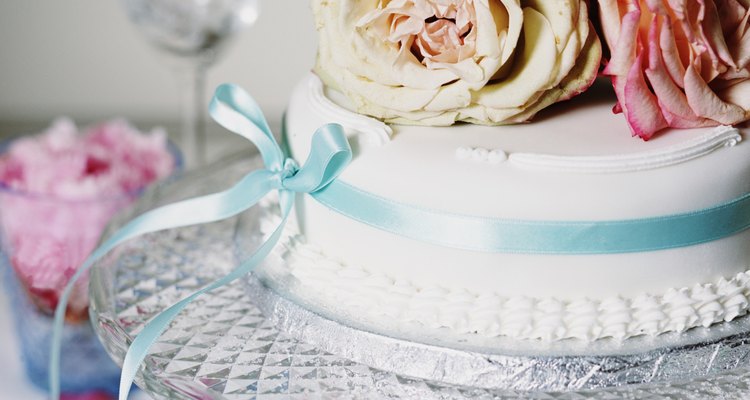 Digital Vision/Photodisc/Getty Images
Garnishes add flair to a plain cake and take a more elaborate cake up a notch. Distinct from a cake's frosting, a garnish can be used even if a cake is not iced. Fruit and nut garnishes on an unfrosted cake raise the health quotient of a dessert, letting diners bypass sugary frostings and their empty calories. Anything edible is fair game to use as a garnish, giving bakers a nearly unlimited supply of fresh ideas.
Use a little fruit or a lot. A cake exudes elegance with one sliced strawberry fanned out in the center. A cake with halved strawberries covering the entire top is another delicious option.
Garnish the cake with nuts that are sliced, chopped or whole. Almonds, walnuts, pecans and peanuts are all classic choices to dress up a baked dessert.
Sprinkle the cake with powdered sugar, colored granulated sugar, a cinnamon-sugar mix or other flavored sugar.
Place your favorite cookies on top of the cake. Use them to create a flat border along the edges of the cake, or for a more dramatic look, stand the cookies on end in a pleasing pattern.
Make your own "artwork" with candy in various sizes, shapes and colors. Thin licorice is flexible and can be used to form straight lines or curves. Gumdrops and other jellied candies can be cut in different shapes. Or use the candies as they are to create a simple, colorful design, such as a rainbow.
Sprinkle coconut over your cake. Dye shredded coconut with food coloring and use various shades to create a design.
Place your favorite baking chips, or a mixture of flavors, on the cake. Anchor them in the frosting or simply sprinkle them on top. Consider milk chocolate, dark chocolate, butterscotch, white chocolate, peanut butter or swirled chips.
Place real flowers on top of your cake. Choose flowers that are edible -- pansies, roses and nasturtiums, for example -- and be sure that they have not been treated with chemicals.
Writer Bio
Elizabeth Nickelaid is an editor and writer with more than 20 years' experience in the newspaper industry. She has won state and national awards for headline writing and has collaborated with Pulitzer Prize-winning reporters. She has a Bachelor of Arts degree in English from Wake Forest University.
Photo Credits
Digital Vision/Photodisc/Getty Images