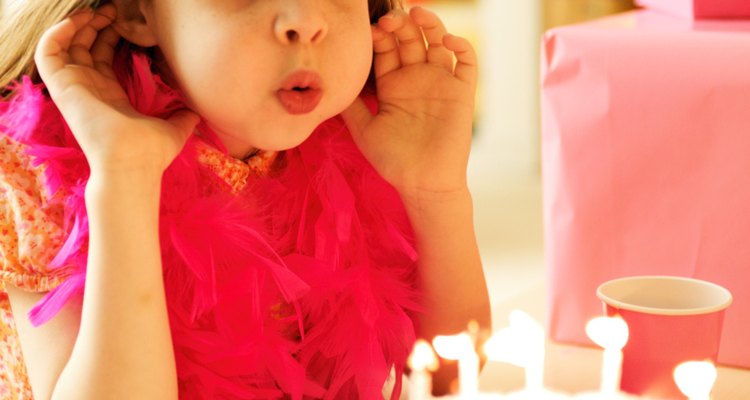 Photos.com/Photos.com/Getty Images
Unicorns, mermaids, fairies and flowers -- a little girl's 4th birthday is a magical time. Even with two left thumbs, you can create a memorable birthday cake without a lot of fuss. Everything you need, from prefilled icing tubes for writing the birthday girl's name to candles, theme pans and icing mixes -- you can get from hobby and party supply stores.
Cupcake Party Cakes
Four-year-old birthday parties are notoriously messy. Skip the forks and opt for finger-licking fare by serving a cupcake cake. This type of birthday cake is nothing more than a bunch of cupcakes, positioned in a circle or another shape and iced as if they were a single cake layer. No cake cutting needed. To serve, just remove one cupcake per child. The best way to ice a cupcake cake is with a disposable icing bag, fitted with a large star tip. Swirl and pipe the icing in any design you choose over the tops of the cupcakes. For example, a center cupcake, circled by six more cupcakes, can be iced to resemble a flower.
Color Her Happy
A little girl's favorite color rules the day, but use dark colors with discretion. The deeper the color, the more food coloring necessary to get the icing shade just right, which can alter the icing's consistency. If deep purple is the color of choice, consider icing the whole cake with white or light purple and use the deep purple for borders and accents. For the brightest colors when making homemade buttercream icing, use vegetable shortening instead of real butter, and tint the icing with gel, not liquid, food colors.
A Picture's Worth a Thousand Words
Nothing's simpler than a edible image cake. Online cake supply retailers offer custom printing services, so plan ahead to allow enough time for shipping if you want a special photograph turned into an edible image. Other popular images such as cartoon characters, are available in hobby stores. After smoothing a layer of plain icing on the cake, position the edible image on top. The image will "melt" to the surface of the cake. Add a piped icing border and candles to complete the design.
Theme Cakes
If you can pipe a simple star with an icing bag, (either a store-bought or a home-made icing bag) you can make a theme cake. Theme pans come in a variety of trendy characters and designs. The directions, similar to a paint-by-number kit, come with each pan. Pipe outlines first and then fill in each area with icing stars. Voila! A theme cake that will look like you fussed.
Candy Molds and More
Spiff up the birthday girl's cake by using small candy molds to create tasty decorations. Squeeze and knead small fruit candy chews, until they're pliable and then press them into candy molds. When firm, pop them out and use them to decorate the sides or the top of the cake.
Presentation is Everything
Come on, you weren't really thinking about putting her cake on a dinner plate, were you? You don't need an expensive cake platform -- just cut a piece of strong cardboard a couple of inches larger than the diameter of the cake and wrap it with aluminum foil. Sprinkle candy graffiti or position chocolate kisses on the border.
Writer Bio
Glenda Taylor is a contractor and a full-time writer specializing in construction writing. She also enjoys writing business and finance, food and drink and pet-related articles. Her education includes marketing and a bachelor's degree in journalism from the University of Kansas.
Photo Credits
Photos.com/Photos.com/Getty Images