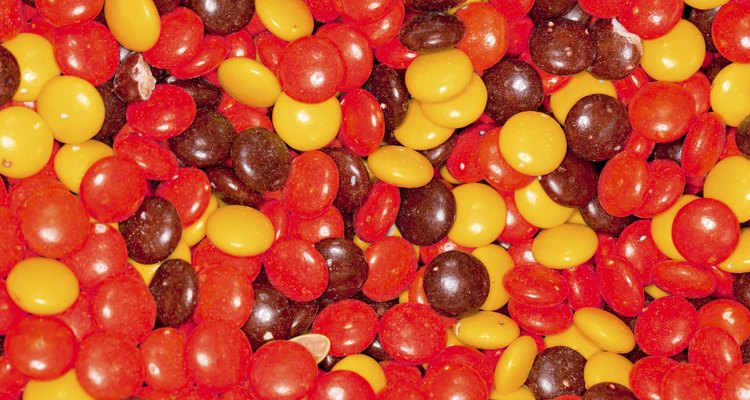 Aneese/iStock/Getty Images
Children with a frog-themed birthday party will appreciate a green cake in the shape of a frog. The face of the frog can be made with supplies on hand and lettering can be added on the cake. If the frog party revolves around Disney's "The Princess and the Frog," the leftover pieces of cake can be used to make a yellow crown behind the frog's head.
Prepare the Cakes
Prepare enough of the cake batter for two 9-inch square pans.
Pour the cake batter into a 9-inch round cake pan, an 8-inch square cake pan and three holes of a cupcake or muffin pan.
Bake the cakes according to the directions in the recipe.
Remove the cakes from their pans after letting them cool for 10 minutes and transfer them to wire cake racks. Let the cakes cool to room temperature.
Cut the 8-inch square cake into three long strips of equal size. Set aside one of the strips for another use and round off one end of each of the remaining two strips.
Cut one of the cupcakes in half.
Arrange the Frog Cake
Set the round cake in the middle of a large platter.
Put two cupcakes just above the circular cake as the frog's eyes. The cupcakes should be about 2 inches apart from each other.
Arrange the two strips of the square cake on the lower side of the circle as the frog's legs. The rounded ends should be on top, pointing away from the cake as the frog's knees. The square ends should both point to a spot just below the round cake, but should not meet.
Place one-half of a cupcake next to the bottom of each of the legs to make the frog's foot. The cut side of the cupcake should be flush against the frog's leg.
Decorate the Frog Cake
Make a large circle with white frosting on the bottom two-thirds of the top of each of the cupcakes for the whites of the eyes. Place a brown, round candy on each eye for the pupil.
Mix the remainder of the white frosting with green food coloring for the frog's body.
Spread green frosting over the top and sides of the frog's body and legs. Also frost the portions of the eyes that do not have white frosting on them. If you wish, mix some yellow into any leftover green frosting and paint another lighter colored layer on the frog's belly.
Make the frog's mouth and tongue from red decorating icing or red licorice.
Photo Credits
Aneese/iStock/Getty Images