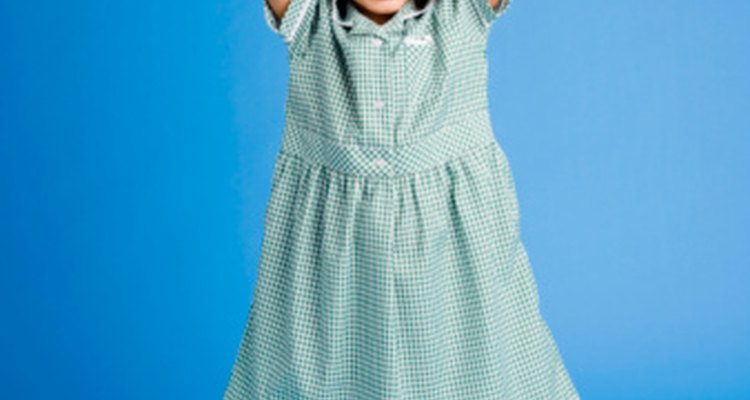 Polka Dot Images/Polka Dot/Getty Images
Number cakes are ideal for celebrating milestone occasions. They are perfect for kids' birthday parties and can be assembled from round and rectangle shaped cakes. Make a number six cake from a round cake and a loaf cake. Make sure to place number cakes on a sturdy base so that they do not move around or slide off. Fill the cakes before assembling them so that they do not shift in position. It is a good idea to refrigerate the cake after filling it so that the filling does not ooze out and has time to set before frosting the cake.
Place round cake on a cake board and attach it to the board with a smear of frosting. Place the soup can in the middle of the cake and press it down to remove a round circle from the cake. Slice the cake horizontally and fill it with your choice of filling.
Slice a triangle-shaped piece from one corner of the loaf cake to make the top part of the number six. Place it on top of the round cake in a diagonal position and check to see if the cake resembles the number six. Trim the loaf cake to attach it properly to the round cake, if desired.
Spread frosting on the entire cake to make it look like one piece. Refrigerate the cake for 15 to 20 minutes to allow the frosting to set.
Apply a second layer of frosting on the cake, smoothing it well. Pipe a border on the perimeter of the cake, if desired.
Place candy pieces on the top and sides of the cake. Add a birthday message, if desired.
References
Writer Bio
With more than seven years of combined experience as a newspaper editor and technical writer in the Silicon Valley, Farozan Jivraj brings a unique versatility to her writing. She has been published in the "Deccan Chronicle" and on various websites and volunteers on the Admin Council of the Society for Technical Communication (Silicon Valley chapter).
Photo Credits
Polka Dot Images/Polka Dot/Getty Images